With the UK's lead in developing wave and tidal energy solutions, and Scotland's exceptional levels of activity, it is not surprising that All-Energy 2013 (Aberdeen, 22-23 May), the UK's largest renewable energy exhibition and conference, looks seriously at this developing renewables sector.
WAVE AND TIDAL ENERGY MUCH IN EVIDENCE AT ALL-ENERGY 2013!

With the UK's lead in developing wave and tidal energy solutions, and Scotland's exceptional levels of activity, it is not surprising that All-Energy 2013 (Aberdeen, 22-23 May), the UK's largest renewable energy exhibition and conference, looks seriously at this developing sector of the renewables industry.
Nearly 210 exhibiting companies, of the total of 580, have placed themselves firmly on the wave and tidal trail round the exhibition being held at Aberdeen Exhibition and Conference Centre (AECC); some 15 hours of the main conference are devoted to wave and tidal energy; and the show-floor wave and tidal innovation technology showcase area has a strong programme that features device developers galore –at least 18 of them, from the UK, Norway, Australia and talking about a Russian device too in quickfire sessions.
"The representation within the exhibition by wave and tidal device developers and the companies and organisations throughout the supply chain supporting their development is highly rewarding," says Jonathan Heastie, Exhibition Director, Global Group Renewables and Alternative Energy of Reed Exhibitions Ltd. "We know too that there will be some eye-catching exhibits such as the Schottel Tidal Generator in full scale – visitors following our helpful wave and tidal sector trail around the exhibition will be able to discover many other relevant exhibits."
Highly targeted conference sessions
Conference sessions devoted to wave and tidal energy activities run throughout All-Energy 2013 and include:
Day 1
• 'Joining up Europe for Marine Renewables', organised by SEGEC
• 'Atlantic Canada's Renewable Energy: Not just the Bay of Fundy', organised by Maritimes Energy
• 'Meeting the Marine Energy Challenge – How Supply Chain Innovation is Enabling Early Array Deployment'., organised by South West Marine Energy Park, in partnership with Invest in Cornwall
• UK Trade & Investment's session: 'Marine Energy – a Global Perspective'
• 'Steps to Consenting'
Day 2
• 'Setting the Scene: The Current State of Play'
• 'Challenges and Solutions: Finance, Cost Reduction and R&D'
• 'Moving Forward: Innovation and Supply Chain with Cost Reduction in Mind'
And wave and tidal matters are also included in the Day 1 session organised by Marine Scotland 'Offshore Renewable Energy in Scottish Waters – Planning and Licensing for the Present and Future'; and also on Day 2 in 'Marine Renewables: Working in the Offshore Environment and Alternative Approaches'. "There's no doubt about it, anyone attending the conference will go away with a very complete picture of what is happening now in the wave and tidal sectors and an appreciation of how they, and their organisation, can best be involved," says conference organiser, Judith Patten.
"The great advantage of All-Energy, with all sectors under one roof is that all our attendees can dip in and out of sessions at will, with no delegate fee to pay they can opt to attend sessions related to their daily 'bread and butter' or go to sessions on topics about which they know remarkably little, and come away with their eyes opened, and a potential business scenario playing in their head!" The full conference programme is at www.all-energy.co.uk ; 40South Energy is sponsoring four of the wave and tidal conference sessions.
Meanwhile, innovation on the show floor …..
For the first time, there is a technology showcase seminar theatre on the exhibition floor (situated aptly in the Highlands and Islands and Orkney area of the show) where quickfire updates are very much the order of the day.
Four developers – Albatern, Flumill (from Norway), Nova Innovations, and Vert Labs (the technology originates from Russia, but the company was established by three graduates of London Business School: Oleg Dmitriev (Russia) & Takuma Baba (Japan) were later joined by Graham Webb (UK expert in renewable market) and is now based in Edinburgh) will be taking part in the first technology quickfire session.
Ten of the developers currently testing at EMEC including Alstom (TGL), Aquamarine Power, Bluewater Energy Services, Kawasaki, Nautricity, Pelamis Wave Power, Scotrenewables, Seatricity, Voith Hydro and Wello Oy will be taking to the floor in technology update 3, and a further four presentations feature in the fourth such session and include CETO from Australia and Schottel's device from Germany.
Other sessions in the technology showcase, include Orkney The Energy Islands (involving Heriot Watt Centre for Islands Technology and Aquatera); showcase sponsor ABB talking first with Scotrenewables, and then later in the day with Aquamarine Power; 'Marine Renewables: Comparison of the State of the Art' by a veritable guru on the subject, Professor Peter Fraenkel MBE, Director, Fraenkel Wright; a view of technology innovations from Scottish Natural Heritage; chances to consider 'A Platform for Tidal Energy' (Tidalstream Limited); and 'Marine Energy Projects – Tackling the Challenges (IT Power Limited); and finally two presentations on innovations from Northern Ireland. The showcase programme repeats on both days.
Free to attend
Every aspect of All-Energy, the major exhibition, the world-class conference, the show floor innovation showcases and the Giant Networking Evening are free to attend for all with a professional/business interest in renewable and sustainable energy, and in energy efficiency. Registration is online at www.all-energy.co.uk
All-Energy 2013 is held in association with RenewableUK, Scottish Renewables, Aberdeen Renewable Energy Group (AREG), and UK Trade & Investment. The Society for Underwater Technology is the show's Learned Society Patron and has been much involved with the wave and tidal conference programme. Nearly 30 government departments, professional bodies, regional development agencies, and trade associations are supporters of All-Energy.
Associated events
Even before All-Energy opens on Wednesday 22 May, there are associated events relevant to the wave and tidal sector taking place at AECC on 21 May.
These include the launch of SMARTtide (Simulated Marine Array Resource Testing) organised by the Energy Technologies Institute and HR Wallingford; the IMarEST Metocean Awareness Taster Session; Numerical Simulation of Renewable Energy (organised by NAFEMS);Remote (satellite and ground based) Sensing and Marine Renewables (organised by NERC/NOC and the Energy Generation & Supply KTN); and the RenewableUK session - Strengthening marine energy value chain - Marine energy and the supply chain: overcoming strategic challenges. Full details on the associated events are at http://www.all-energy.co.uk/Conference/Associated-Events/
Featured Product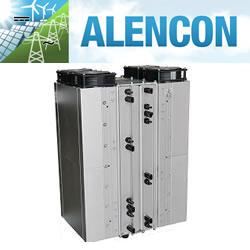 Alencon Systems is the premier manufacturer of high power, high voltage DC:DC optimizers for alternative energy applications including solar, battery energy storage, Microgrids, Fuel Cells and Electric Vehicle charging. Alencon's DC:DC converter offerings include the SPOT, BOSS and CUBE series DC:DC converters. The SPOT is a modular, uni-directional DC:DC solution ideal for solar applications. The BOSS is a modular, bi-directional unit for use with battery energy storage. The CUBE is a monolithic DC:DC converter which is available in both uni-directional and bi-directional modalities. Pictured above, is the Alencon SPOT.