Eclipsall Energy Corp. sponsors Team Ontario to build a net-zero+ solar home for the U.S. Department of Energy Solar Decathlon 2013.
Toronto, Ontario May 13, 2013

Eclipsall Energy Corp. ("Eclipsall") is proud to announce its sponsorship of Team Ontario to build a net-zero+ solar home for the U.S. Department of Energy Solar Decathlon 2013. This sustainable design competition is the most renowned event of its kind, challenging 20 collegiate teams from around the world to build energy-efficient houses powered exclusively by solar energy.
Team Ontario's entry, ECHO, is an Ecological Home built for today's young and green prospective homeowner. The 940 sq. ft. house incorporates aspects of a traditional family home with modern technologies such as photovoltaic panels, predictive shading, vacuum insulated panels, real-time energy monitoring, an integrated mechanical system, and a user-friendly mobile application.
ECHO features a 7.8kW photovoltaic system composed of Eclipsall's 260W monocrystalline black-on-black solar modules. The new black-on-black modules allow Team Ontario to achieve a solar panel design that integrates seamlessly with the building structure.
"We are extremely proud to support Team Ontario with locally made, high performance black-on-black solar modules, enabling them to maximize power output with an elegant module design ideal for the residential market" commented Les Lyster, President & CEO of Eclipsall Energy.
Eclipsall and Team Ontario are excited to showcase high performance Ontario-made solar panels on the world stage at the competition in Irvine, California this coming October.
Featured Product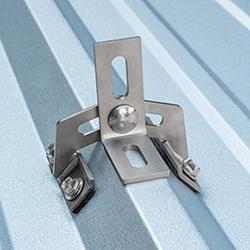 Error-Proof Compression: The QB2 doesn't leave any room for user error when it comes to Microflashing® compression. Once the Dual Drive Shoulder Screw is secured, the Microflashing® is compressed. Only 3 Components: The QB2 is comprised of Microflashing®, an L-foot and a Dual Drive Shoulder Screw. No more Nuts needed to tighten and secure the L-foot! Not only does this simplify the installation process, it also cuts down the installation time.