Student from all over the world have taken SEI courses over the past decade. Most students choose to take PV101 Online and then move on to take PV202: Advanced PV System Design and the NEC (Grid-Direct) - Online.
Paonia, Colorado May 14, 2013

Starting Monday, May 20th, SEI will be offering two more online sessions in both PV101 and PV202. For more than a decade, Solar Energy International's (SEI) Online Campus has served students from all over the world.
Most SEI students choose to start their online training with PV101: Solar Electric Design and Installation (Grid-Direct) - Online and then come to a PV201L: Solar Electric Lab week in Paonia Colorado. Many of our students who wish to dive deeper into the National Electric Code and commercial / utility scale topics, choose to take SEI's PV202: Advanced PV System Design and the NEC (Grid-Direct) - Online.
Register today!
Course Description for PV101: Solar Electric Design and Installation (Grid-Direct) - Online
This online solar training course establishes fundamental concepts required for safe, code-compliant design and installation of photovoltaic (PV) systems, with a focus on residential-sized grid-direct solar electric systems. The goal of the course is to create a fundamental understanding of the core concepts necessary to work with all PV systems, including: system components, site analysis, PV module criteria, mounting solutions, safety, and commissioning.
The course will also cover the basics of sizing a residential grid-direct system, wire sizing, overcurrent protection, and grounding – all of which will be expanded upon in PV 202. PVOL101 online students receive 1 full year of free access to Home Power Magazine Online. You will receive your login in an email 1 to 2 weeks after your course starts.
Course Description for PV202: Advanced PV System Design and the NEC (Grid-Direct) - Online
Apply National Electrical Code (NEC) standards and industry best practices to residential and commercial grid-direct solar electric systems to ensure safe, code-compliant design and installation. This online solar training workshop builds upon the core concepts from PV101, expanding them to address larger, more complex grid-direct PV systems. PV202 focuses significantly on the National Electrical Code, including interconnection calculations, grounding, workspace clearances, and disconnect and overcurrent protection sizing and considerations.
Commercial system equipment specifications including inverters, racking, and commercial voltage service panels are covered; as well as site considerations for roof and ground-mounted arrays, including layout and inter-row shading. PV 202 thoroughly addresses array sizing with various inverter configurations, in order to assess design options and optimize performance.
Students will learn to evaluate system performance under various operating conditions, and identify and correct installation errors including ground-faults. This course combines class lectures with individual problem solving exercises covering common design considerations. The online course is six weeks long and covers all of the material presented in the in-person workshop.
SEI's Solar Professionals Certificate Program
All of SEI's online courses qualify for satisfying the required classroom training hours and count towards graduating from SEI's Solar Professionals Certificate Program. The SEI Solar Professionals Certificate Program goes beyond a "certification test prep" format of training and takes participants to a higher level of educational experience to truly prepare them for the solar industry and a career.
For more information e-mail Solar Energy International's Certificate Program Advisor, breccia(at)solarenergy(dot)org or call Breccia Wilson in the Student Services department at (970) 963-8855 ext. 107. or Register online today!
About Solar Energy International
Solar Energy International (SEI) was founded in 1991 as a nonprofit educational organization to help others to use renewable energy resources and sustainable building technologies through education and technical assistance.
Our vision is focused on helping create a more sustainable future for our planet and its inhabitants. Through our work, we see clear opportunities to influence people's thinking and behaviors towards energy efficiency and the use of natural, sustainable methods of energy production and utilization.
Solar Energy International is a 501(c)(3) Equal Opportunity Institution and Employer, and is not affiliated with any dealer, manufacturer, distributor, or any other renewable energy commercial enterprise.
Media contact for SEI is Christopher Turek, Director of Online and Student Services - chris(at)solarenergy(dot)org - 970-963-8855 x115 - http://www.solarenergy.org
Featured Product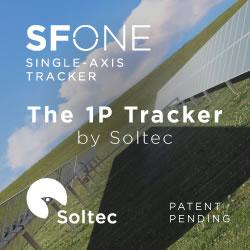 Under the slogan "engineered for greatness", the SF8 tracker aims to revolutionize the photovoltaic market with its new minimum 2x60 configuration and 4 to 6-strings. This tracker is elegantly designed while it reinforces its structure to perform in any terrain. In addition, the SF8 tracker increases the rigidity of its structure by 22% more than the previous generation of Soltec trackers, the SF7. The SF8 is specially designed for larger 72 and 78 cell modules, an increasing market trend.