With alternative energy sources becoming more prevalent, IM Wind and Solar is channeling some of their focus into the development of emergency back up power.
Salt Lake City, Utah May 15, 2013

An emergency generator provides back up power Idaho and Utah.
In a world of constant development and progress, new discoveries in energy and power sources are constantly being addressed as a focal issue. Solar panels Utah are quickly becoming a more integrated part of home building. With fossil fuels diminishing and renewable energy becoming more obtainable, wind and solar power is growing increasingly more common in residential and commercial spaces. As the industry progresses, companies are focusing on providing these innovative developments and energy sources in more dire circumstances, such as mobile platforms or emergency situations.
Utilizing the benefits of a back up generator.
In the case of natural disasters or power outages, it's necessary for individuals to have an emergency mode of power. Intermountain Wind and Solar are using their experience with alternative energy sources to provide a new and efficient generator that increases back up power Idaho. With multiple options available, these generators are cost effective methods to ensure buildings retain function in light of an emergency or temporary power outage.
The generators are connected to each individual home or commercial space, and power on when primary power sources fail. Within a few minutes, buildings are back up to full functionality. There isn't a need to connect or plug anything in; since the generator is constructed as an integral part of the home's structure, it automatically starts up when it is needed and shuts down when its uses are no longer necessary. The generators run on natural gas and propane, eliminating the need for continuous refueling. Similar to the way wind and solar power have become a common tool in alternative energy construction, generators such as these are becoming standard for emergency power outages.
Generators as alternative energy sources.
Along with the other services offered by Intermountain Wind and Solar, emergency generators are a cost effective alternative energy source. They can supply the amount of power needed during an emergency situation and are easy to use. Along with solar panels Utah, emergency generators are products that ensure that residencies and commercial businesses retain their power source during a temporary outage. With their new generators, Intermountain Wind and Solar is bridging the gap between emergency energy and efficiency. For more information about emergency back up power Idaho or alternative power sources, visit their website at http://www.imwindandsolar.com.
Featured Product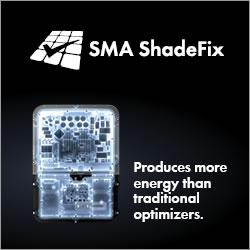 A recent university study showed SMA ShadeFix optimization produces more energy than traditional optimizers. It also utilizes far fewer components, reducing the need for costly service visits. Systems with ShadeFix optimization and SunSpec certified shutdown devices are the ideal solution for residential and commercial PV systems. Visit SMA's website to learn more and download the whitepaper.