TÜV SÜD will showcase its service portfolio at POWER-GEN Europe, held in Vienna from 4 to 6 June, 2013 (Hall B, Stand B2251).
Munich / Vienna. Increasingly fierce competition in the energy sector in tandem with decreasing utilisation rates pose new challenges to the owners of conventional power stations, who are forced to operate their plants more flexibly while still ensuring cost-effectiveness and profitability.

Reaching this goal requires component life to be increased and core processes to be streamlined and optimised. TÜV SÜD will showcase its service portfolio at POWER-GEN Europe, held in Vienna from 4 to 6 June, 2013 (Hall B, Stand B2251).
Many of the baseload power stations were built in the 1980s and 1990s and have been modernised to allow more flexible operations in the wake of increased use of energy from renewables. "Lower minimum loads, changes in load management and full use of design margins represent a large step in the right direction", says Hans Christian Schröder, Head of Power Station and Energy Services, TÜV SÜD Industrie Service. "However, not all of the secondary processes have yet been adjusted perfectly to the new mode of operation." One of the key priorities of maintenance strategies for flexible power stations, for example, is to prevent all unnecessary refurbishment work or replacement measures. The key to reaching this goal lies in reliable prediction of the long-term behaviour of components and plants. "Today, innovative technologies and plant-specific inspection schemes offer completely new possibilities to determine the life and fatigue strength of individual components", says Hans Christian Schröder. A well-planned maintenance strategy builds on these possibilities – for example, demonstrating under which conditions the operation of components with acceptable faults can be continued in a controlled manner at no cost to safety and reliability. While resulting in higher plant availability, and thus ultimately also profitability, this approach requires a high degree of know-how and familiarity with the relevant processes and systems. Know-how and expertise are also in high demand because of the increasing networking of control processes in power stations and for the use of innovative technologies such as state-of-the-art control systems.
Hans Christian Schröder says: "To ensure that technical innovations supply the desired effects, the underlying engineering processes must be expediently designed."
Knowing how to keep those turbines turning
"The new market situation has curbed investments in new power station projects, so that some of the existing turbines must be operated well beyond their estimated service life", says Martin Winterstein, Senior Expert Turbine Generator Set at TÜV SÜD. At the same time, more flexible modes of operation result in a larger number of load cycles and higher material loads. "Given this, the qualitative assessment of the condition of a turbine – the heart of every power station – must be highly detailed and reliable." Depending on the power station in question, this may also apply to other machinery and the pertinent process and control systems. Another objective of these qualitative assessments is to uncover possible faults or defects at an early stage and initiate early actions to ensure reliable continued operation. As a third-party engineering partner, TÜV SÜD can act as mediator between plant operators and manufacturers, for example in cases in which past turnaround activities were not carried out by the original equipment manufacturer.
TÜV SÜD's impartial experts provide objective and verifiable answers, reveal faults and defects and identify opportunities for improvement. Further services include technical expert reports, determination of the current value of a plant, recommendation of rehabilitation measures and assessments of plant and process-engineering aspects. TÜV SÜD's specialists also quantify the investments needed for the refurbishment or replacement of plant components and carry out feasibility studies to check alternatives.
Comprehensive information about our services is available at www.tuev-sued.de/is
Featured Product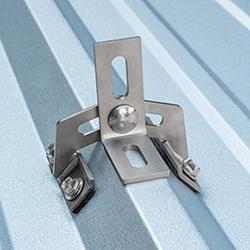 They have been changing the game for 10 years with their original Top Mount line for Asphalt Shingle roofs, and by now supplying one of the widest ranges of solar mounts in North America. From their patented products, to the custom production services they offer, QuickBOLT has been working with solar installers for nearly a decade to make solar installations easier than ever before.