Some companies are using the solar energy from the PV installations on their cool metal roofs to run their facilities--including manufacturing. But how many companies are using the solar energy from the PV installations on their cool metal roofs to manufacture more cool metal roofs?
SOLAR PV SYSTEM ATTACHED TO ROOFING MANUFACTURER'S COOL METAL ROOF

HELPS MAKE THE COMPANY'S COOL METAL ROOFING PRODUCT
PERTH AMBOY, NJ--Some companies are using the solar energy from the PV installations on their cool metal roofs to run their facilities--including manufacturing. But how many companies are using the solar energy from the PV installations on their cool metal roofs to manufacture more cool metal roofs?
That's what Englert, Inc., a leading manufacturer of cool metal roofing materials and gutters is doing with the new roof-integrated photovoltaic (PV) system on its New Jersey field service center in Perth Amboy. The 611 photovoltaic panels attached to Englert LEED-compliant roofing material is helping power the company's rollforming, slitting and stamping operations that make the LEED compliant cool metal roofing material.
In April the company threw the switch on 16,000 square feet of crystalline PV panels attached to Englert's Royal Blue Englert Series 2500 standing seam roof system. It is believed to be the largest and only solar rooftop system ever installed by a metal roofing manufacturer on its own facilities. The system was installed to save on energy costs but also to underscore to architects, contractors and builders Englert's commitment to solar energy as a rooftop power source. The system is expected to generate nearly 186,000 kilowatt hours annually. Electricity drawn from the integrated roofing system is being used to rollform and slit the coated metal coil used in roofing.
All Englert employees are able to monitor the real-time photovoltaic productivity of the system via their computers as well as weather conditions that can influence productivity. Any excess energy not used by the company to power Englert operations will be sold back to the local power company, generating income for Englert.
Englert metal roofing and PV products—both crystalline and laminates--have been used in dozens of solar rooftop installations for nearly a decade now. But this is the first time Englert has launched its own program, giving the company firsthand experience in building, financing and operating a major PV rooftop system as well as the opportunity to experience all facets of an installation and operation on a day to day basis for years to come. The company's own involvement with the system is expected to provide invaluable experience in planning and servicing systems installed for customers.
The system features 611 rooftop PV panels with wiring that feeds into four rooftop combiner boxes that reduce wiring and installation time. Wiring from the four combiner boxes runs from the field service center roof to two inverters inside the building where they turn Direct Current (DC) generated by the crystalline PV panels into Alternating Current (AC) power for use in running rollforming, slitting and part of the corporate electrical needs. Since the system kicked off, it has generated nearly 15,000 kilowatt hours of electricity, enough energy to charge 507 electric cars or 2,251,000 cell phones.
By using rooftop photovoltaics, Englert has averted the equivalent of more than eight tons of carbon dioxide emission or the use of 1,075 gallons of gasoline. System installers say the 611 panels are expected to produce about 186,000 kilowatt hours (kWh) a year.
"Again, Englert has taken the leadership role in exploring and implementing environmentally innovate technology in the metal building industry," said Englert President Deborah Tripod. "We were the first into the marketplace with cool metal roofing, making it available to our customers at standard pricing," she noted. "And two years ago, we installed the cleanest metal coating operation of its kind in the world. That system is capturing 100 percent of solvent fumes from painting drying and curing operations and recovering virtually all of the heat from the burning solvent for return to the process in an ultra-clean system," she noted.
"A lot of metal roofing and wall manufacturers offer solar photovoltaic products but we are the first to make the commitment to a major investment in this technology at our own manufacturing facilities. I think that says a lot about Englert and our commitment to our solar customers, to architects who support the AIA 2030 Challenge for sustainability and to the engineers and builders who believe in alternative energy solutions in their projects."
Englert offers a full line of LEED and Energy Star compliant metal roofing systems complete with the company's own integrated solar photovoltaic, solar thermal and rainwater harvesting products.
Englert's standing seam metal roofing material is offered standard in 26 UltraCOOL, Kynar-coated colors at standard pricing.
To maximize the environmental potential of the roof, customers can choose Englert's SunNet photovoltaic laminates attached directly to the standing seam panels or to photovoltaic crystalline panels like those used in the Englert corporate project.
Featured Product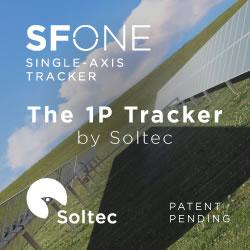 SFOne is the 1P single-axis tracker by Soltec. This tracker combines the mechanical simplicity with the extraordinary expertise of Soltec for more than 18 years. Specially designed for larger 72 an 78 cell modules, this tracker is self-powered thanks to its dedicated module, which results into a lower cost-operational power supply. The SFOne has a 5% less piles than standard competitor, what reduces a 75% the labor time.