Peak Solar is proud to announce to additional sales director.
May 21, 2013

Peak Solar LLC is proud to announce the recent hiring of 2 new solar sales managers in the state of California, one of which were hired out of the Northern California region alone! The other sales manager was hired in the Los Angeles region. Peak Solar had been looking for qualified people who were passionate about selling solar kits and the response we received has been amazing. Employment opportunities, especially in North California are at an all time high in the solar industry. Peak Solar plans to hire an additional 15 more sales and development managers over the next 6 months alone!
All new employees meet or exceeded the following qualifications: Bachelor's degree. Preferred Solar sales experience preferred. Excellent analytical skills with finance or business concepts knowledge. Experience and/or understanding with solar leasing or equipment leasing. Local candidates only based in California.
"It's good to be able to grow Peak Solar especially in tough economic times this country is currently in, the nation should look to growing sectors such as green energy as a source for jobs in the 21st century." -John Bucher
About Peak Solar:
PeakSolar.com is an international expert in solar development and engineering as well as a leading supplier of photovoltaic components and solar kits. Providing turnkey PV systems for residential, commercial and industrial applications. Based out of Boca Raton, Florida Peak Solar has developed systems ranging to the home consumer, corporate energy and solar power manufacturing development parks. Peak Solar has developed over 100 millions dollars worth of energy development in the United States alone.
Featured Product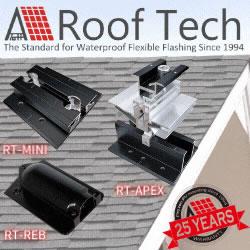 Now Roof Tech brings you the most innovative, watertight mounting systems ever developed for solar photovoltaic systems. Designed and manufactured exclusively for us by Japan's longtime leader in roofing technologies, Roof Tech products are 100% code-compliant and offer fast, simple installation and huge savings on shipping costs due to their compact, rail-less design. Learn more about our full line of versatile PV mounting solutions now available for residential installations. The next generation in rooftop solar mounting solutions."