Bushnell and PowerFilm, Inc. have formed a strategic relationship to launch Bushnell's new PowerSync product line, which incorporates PowerFilm's thin film solar technology into portable electronic device charging equipment.
Ames, IA May 23, 2013

PowerFilm®, Inc. (AIM: PFLM), ("PowerFilm" or the "Company"), the developer and manufacturer of thin flexible solar panels, announces its strategic relationship and product launch with Bushnell Outdoor Products to sell custom solar products to Bushnell customers. After two years of intensive development by both companies, five products which integrate custom PowerFilm solar panels are now available for sale from Bushnell.
The Bushnell products being released that incorporate PowerFilm's ultra thin, ultra durable solar material, are rugged products that are made to withstand wear and tear in an outdoor environment. The five products being released by Bushnell that have integrated PowerFilm solar material are built to last, with the rugged exterior and durable solar material inside. These products are ideal for charging portable electronics equipment, such as cell phones, GPS, radio, etc., especially for use in remote areas.
One of the solar products being released by Bushnell is also being incorporated into Bushnell's Bear Grylls line of products.
"When we set out to build the best portable power products on the market, we saw a need for solar products that actually do what they say they will do. PowerFilm not only provided that solution but also in a lightweight, compact and durable format that our consumers expect from our new PowerSync product line," says Terry Mears, Director of Marketing for Bushnell Outdoors.
Bushnell will be featuring these products on their website under their PowerSync line of products, along with a few other electronics charging products for portable electronic devices.
"We are very excited here at PowerFilm to finally see these products being released to the public," says Ron Mason, VP of Sales and Marketing at PowerFilm, Inc. "We have more than two years of research and development with Bushnell to make these products a perfect fit for what both of us wanted to see in our products."
About Bushnell Outdoors
The PowerSync line of portable power products are part of Bushnell Outdoors a collection of gear for the modern outdoorsman. All products are rugged, durable and made for the rigors of the trail, off-trail or wherever you pitch camp. For more detail on PowerSync and Bushnell Outdoors, go to http://www.bushnell.com.
Bushnell Outdoor Products is a global manufacturer and marketer of branded consumer products. Headquartered in Overland Park, Kansas, the company sells its products worldwide. For information about any of these brands or products, please contact Bushnell Public Relations at (913) 752-6105.
About PowerFilm, Inc.
PowerFilm, Inc. is a developer and manufacturer of thin, flexible solar panels based on a proprietary production process. The company's objective is to target portable and remote solar power applications, the government and military market, and the building integrated solar power market. Further, PowerFilm is focused on creation of complete solar solutions in select markets in partner organizations possessing the branding and distribution to drive products to market. PowerFilm is based in Ames, Iowa.
PowerFilm was founded in 1988 by Dr. Frank Jeffrey and Dr. Derrick Grimmer, both former 3M research physicists, with a combined 65 years of experience in semiconductor and solar energy research and development.
Featured Product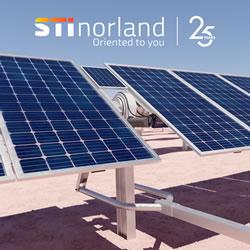 Developed in 2017, the STI-H250™ is consists of two linked torsion beams that rotate simultaneously following the sun's path. They are moved by just one motor, cutting supply and maintenance costs. STI-H250™ dual-row tracker includes backtracking mode to avoid shadowing between adjacent rows and stow function to protect the tracker in extreme wind conditions. For cleaning, vehicles can pass between trackers and each row can be placed in a different position.