SimpleRay moves to new location and dramatically expands solar installer support and assistance, with increased selection and financing options on the solar industry's newest and most popular products.
Minneapolis & St. Paul, Minnesota May 23, 2013

SimpleRay is excited to invite solar installers and businesses to join the growing numbers of PV professionals looking for a better way to buy solar panels for sale, inverters, solar parts & solar system components with our Simple Solar Installer Network. Membership benefits include the ability to purchase and finance our products interest-free, hassle free, without membership fees!
SimpleRay offers no-interest, delivered Net-30 financing to solar installers and businesses who qualify. Place your order and SimpleRay will send an invoice after all of the products have arrived, giving solar installers a full 30 days from the time the last product is delivered to get the job done. Delivered 60 day terms are also available to well-qualified businesses. SimpleRay financed products also qualify for the annual bonus program, where qualifying solar installers and businesses will receive a 1% annual bonus for any purchase financed through SimpleRay.
Simple Solar Installer Network offers installer-only pricing, and is accessible anytime because the exclusive member login gives solar installers and businesses instant access to SimpleRay's solar installer only pricing. Customer referrals are also available if a customer requests a solar installer in an installer's area. Customer referrals include the specifics of the customer's preferences for a solar system if applicable, along with SimpleRay design suggestions, support documents, and complete site details (pre-approval is required to participate in the customer referral program, contact SimpleRay for details).
For customers: In addition to providing electrical drawings to streamline the permitting process and assisting with rebate requirements, SimpleRay can also help finance solar customers too. Job size or budget is not a concern, as SimpleRay can help any customer find a personalized financing option that fits.
Options include:
*12 Month, No Interest, No Payment
*Tax Credit/Rebate Reamoritization
*Home Equity Financing
*Unsecured Loans to $100,000 for Any Solar System Size
*Municipality or Large Commercial Financing
*Lease/PPA Financing for Large Commercial Installations
All of this, plus the value SimpleRay always offers: Extensive, high-quality product selection, unparalleled technical phone support, and personalized service. SimpleRay has long been committed to offering a superior value on solar products to customers who want to buy solar panels for sale, with excellent industry partnerships and solar financing offers that go above and beyond other online competitors.
A Commitment to Excellent Value for Solar Panel Customers
The hallmark of SimpleRay's business since its founding in 2007 has been its commitment to competitive pricing on the most popular solar panels for sale and solar inverter and PV balance of solar system parts. Because the company operates its business primarily using its website, lower margins overall contribute to a greater ability to buy solar panels and technologies at a discount, and offer lower prices than many competing retail outlets.
SimpleRay's long-term commitment to value has helped numerous customers throughout the world adopt solar technology in an era when fossil fuels and electric energy prices are headed nowhere but up. With the expanded solar installer services offered by SimpleRay, solar installers and customers will be getting access to some of the most popular, high-quality solar panels for sale currently on the market. SimpleRay looks forward to offering these innovative panels and other solar system products at prices that are extremely competitive.
A Triumph for Green Tech, Renewable Energy and Solar Energy
SimpleRay as a company is committed to solar energy, and is constantly searching for exciting new and innovative products in solar renewable energy technologies. As new products become available, they'll immediately be offered to consumers through SimpleRay's website at extremely competitive prices. Consumers wanting to buy solar panels for sale should look forward to fast-paced development, high-quality after-sales support, and other long-term benefits, as a result of partnerships between leading manufacturers in the industry and a leading supplier of solar products.
About SimpleRay
SimpleRay was founded in 2007 as an exclusively online marketplace to buy solar panels that convert solar energy into electric power for homes and businesses across the country. The company has sought to form partnerships with the biggest and most well respected names in the industry, offering competitive prices on the latest and highest-quality technology for consumers looking for everything from complete solar kits and solar systems, to solar panels, solar inverters, solar chargers, and solar mounts and racking.
Featured Product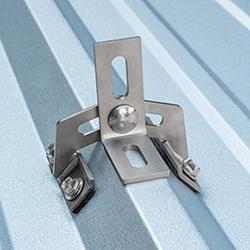 They have been changing the game for 10 years with their original Top Mount line for Asphalt Shingle roofs, and by now supplying one of the widest ranges of solar mounts in North America. From their patented products, to the custom production services they offer, QuickBOLT has been working with solar installers for nearly a decade to make solar installations easier than ever before.