RAIS XT delivers unmatched value and performance
MINNEAPOLIS, May 22, 2013 -- tenKsolar® (tenK) announced today general availability of its polycrystalline silicon 410W RAIS® XT solar photovoltaic (PV) system with industry leading warranty, performance and cost of energy.

"We have worked to address every shortcoming of commercial scale rooftop solar," said tenK Founder and CTO Dallas Meyer . "Generating up to 44% more energy per roof than typical rooftop solar systems, the RAIS XT delivers unmatched value and performance."
RAIS XT is based on tenK's cell-optimized photovoltaic (PV) architecture, which removes the inherent limitations of serial strings found in conventional solar modules. "Failure modes and risks of conventional solar modules including hot spots, potential induced degradation and high voltage arcs are rendered impossible with tenK's technology," continued Meyer. "And with our newly published energy production study, the data clearly backs up the tenK advantage."
tenKsolar has published a long term energy production survey (available at tenKsolar.com) for locations installed with current RAIS PV systems around the US demonstrating 25% to over 30% more energy production per rated watt versus conventional solar arrays in the same location. In addition, tenK offers world-class reliability advantages due to cell independence inside the module. RAIS XT provides leading buyer protection with the industry's best warranty - guaranteeing annual performance degradation of 0.2% or less per year after the first year and through year 25.
Said Joel Cannon , CEO of tenKsolar, "With RAIS XT, we deliver industry leading performance, safety and energy density at the most competitive energy cost. This fact is evident by having shipped systems and booked orders in Europe, Central America and across the USA."
About tenKsolar: tenKsolar designs, manufactures and markets high efficiency and highly reliable photovoltaic solutions based on its proprietary RAIS module technology. The company offers complete, turnkey commercial rooftop solar PV arrays providing the solar industry's lowest energy costs, low-voltage safety and low installation cost. Founded in 2008, tenKsolar is headquartered in Minneapolis, Minnesota.
Featured Product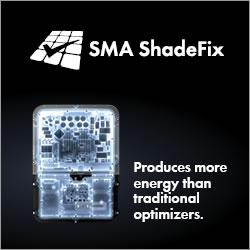 A recent university study showed SMA ShadeFix optimization produces more energy than traditional optimizers. It also utilizes far fewer components, reducing the need for costly service visits. Systems with ShadeFix optimization and SunSpec certified shutdown devices are the ideal solution for residential and commercial PV systems. Visit SMA's website to learn more and download the whitepaper.