State Officials, Community Leaders Join Tenaska to Send Renewable Energy to the Grid
EL CENTRO, Calif. — Tenaska Imperial Solar Energy Center South has become the Imperial Valley's first large-scale solar energy facility to deliver power to San Diego Gas & Electric's (SDG&E) Sunrise Powerlink. More than 130 Imperial Valley business and government leaders, landowners, and local and state officials joined representatives from Tenaska, SDG&E and First Solar, the project's primary construction contractor, for a "Power On" event today celebrating the delivery of clean, renewable solar power to the grid.

Tenaska Imperial South was the first utility-scale solar project to begin construction in the Imperial Valley and is one of the largest commercially financed solar projects in the U.S. to date. The ground-mounted photovoltaic solar project will produce up to 130 megawatts of electricity, enough to power approximately 44,000 California homes. The power generated from the facility will serve SDG&E customers.
"Today we celebrated delivering on our promise to send clean renewable energy to Californians," said Bob Ramaekers, vice president of development, Tenaska. "Reaching this milestone at our inaugural solar project is confirmation that Tenaska's 26 years of expertise in energy project development and construction provide a strong foundation for the successful development of utility-scale solar."
In the last decade, renewable energy has become a dynamic force that is rapidly changing the energy industry. California's ambitious renewable energy mandates are driving this transformation, requiring utilities to secure 33 percent of their power from renewable energy resources and reduce greenhouse gas emissions to 1990 levels by 2020.
Just over 20 percent of the total energy SDG&E has delivered in the past two years has been renewable energy. SDG&E expects to increase those deliveries in 2013, in large part because projects like Tenaska Imperial South are now coming on line.
According to SDG&E, the newly completed 117-mile Sunrise Powerlink serves as the main catalyst for renewable energy projects, such as Tenaska Imperial South, by fulfilling its goal as a renewable energy "superhighway" that will deliver green power generated in the Imperial Valley to the San Diego region.
"The Sunrise Powerlink is one of the largest and most significant projects in the history of San Diego Gas & Electric and we are thrilled that Tenaska is delivering its first energy from its Tenaska Imperial Solar Energy Center South project to our infrastructure," said Jim Avery, senior vice president of power supply, SDG&E. "SDG&E is a leader in the acquisition of renewable energy and our partnership with Tenaska is an important part of meeting the state's clean energy goals."
Tenaska Imperial South has created hundreds of jobs and is paying millions of dollars in local sales tax, which is helping to drive economic growth in the region. As of April 2013, the project had reported payments of $1.5 million out of an expected $3 million in Imperial County sales taxes. Tenaska and its contractor, First Solar, Inc., have worked to maximize hiring of qualified local workers. Of the more than 500 construction workers hired to perform work at the site to date, 70 percent are from communities in Imperial County, including Brawley, El Centro, Heber, Imperial and Calexico.
Tenaska Imperial South was the recipient of the 2013 Project of the Year Award from Imperial Valley Economic Development Corporation (IVEDC) for its contributions to the region.
"We applaud Tenaska, SDG&E and First Solar for working together to bring this critically important project online," said Rhone Resch, president and CEO of the Solar Energy Industries Association (SEIA). "This is an exciting project – and an important moment in the state's history – which will bring clean, reliable and affordable energy to California for decades to come. It's also part of the reason why solar energy is one of the fastest-growing industries in the nation."
Tenaska Solar Ventures (TSV), another affiliate of Tenaska, developed the project. In addition to Tenaska Imperial South, TSV has completed permitting for the Tenaska Imperial Solar Energy Center West near El Centro and continues to evaluate additional opportunities in the Imperial Valley and across the United States.
Construction of the Tenaska Imperial Solar Energy Center West is expected to begin in 2013, with commercial operation in 2015. The solar power generating system would produce up to 150 MW of electricity under a 25-year power purchase agreement with SDG&E. When operating at peak times, it would produce enough electricity to meet the needs of approximately 55,000 California homes.
About Tenaska Solar Ventures
Tenaska Solar Ventures, LLC (TSV) is the solar energy development affiliate of Tenaska, an independent energy company based in Omaha, Neb. TSV has a number of solar power generating projects under development or in construction in Southern California. TSV was named one of the top five utility-scale solar developers by PV News in 2011, and its Tenaska Imperial South project was named 2013 Project of the Year by the Imperial Valley Economic Development Corporation. Tenaska and its affiliates have developed and constructed approximately 9,000 MW of natural gas-fueled and renewable power generation, and manage operations for approximately 11,000 MW of power generation consisting of 14 power plants, seven of which are owned by Tenaska in partnership with other companies and seven of which are private equity investments managed by affiliate Tenaska Capital Management, LLC. For more information about Tenaska and TSV, visit www.tenaska.com or www.tenaskaimperialsolar.com.
Featured Product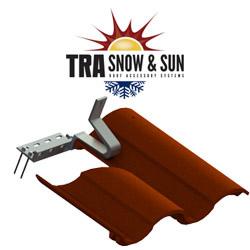 You haven't installed a tile mount that is easier to install than the Solar Tile Mount manufactured by TRA Snow and Sun. Solar Tile Mount is used on all tile roof profiles: flat, mid, and high. It is made in the USA of aluminum alloy for strength and excellent corrosion resistance. Solar Tile Mount is built to allow more ease in installation with more rise from the tile surface to the rail for better air flow below panels. The adjustable base is longer than most allowing attachment 6" to the left or right to have the bracket in the base of the pan of the tile and still fasten to the rafter. Solar Tile Mount is adjustable for counter batten systems from ¾" to 3". The horizontal rail is directly above base fasteners giving greater uplift resistance than any other system. For superior waterproofing apply TRA Snow and Sun's butyl backed VersaFlash aluminum flashing. No tile flashing is needed on top of the tile for greater labor and material cost savings.