Now available on Apple devices, Solar Site Design is a free app positioned to assist solar professionals minimize soft costs of solar projects, including customer acquisitions and solar project management.
NASHVILLE, TN, May 29, 2013 - Following several months of development, Solar Site Design officially launched in the iTunes App store for Apple devices.

This mobile platform was designed and built to fulfill a need for solar professionals to minimize the soft costs involved with solar project development. Submitting complete, accurate information about the project to the necessary approval authorities is a crucial aspect to minimizing the soft costs of solar projects. Combine this with cutting-edge, professional solar design engineers who specialize in submitting permitting packages for solar projects throughout the country, and solar professionals have everything required to power their solar business - all through Solar Site Design.
All on-site data that is captured and recorded in the field syncs to the secure "cloud" and is immediately available to access through Solar Site Design's secure content management system (CMS). Solar contractors who submit solar projects can easily view them from either their mobile device or by accessing the CMS through www.solarsitedesign.com from their favorite web browser.
Additionally, once the solar professional syncs the captured data, Solar Site Design's team of accredited solar engineers prepare a complimentary solar feasibility study. As part of the complete solar project development solution, Solar Site Design's team of engineers also offer affordable full-service solar engineering and permitting packages that are customized to each specific project. All data and corresponding projects are kept strictly confidential, with drawings and data only available to the registered user.
Solar Site Design Managing Director, Jason Loyet, stated "We are aggressively working to curb the expensive and time consuming soft costs of solar development with this app. We have been live on the Google Play store for about two months, and have had great success. Our team just led a solar ground mount project from concept design to utility approval within eight days. This same project just two years ago would have taken anywhere from 4 – 8 weeks in the same jurisdiction!"
Solar contractors who leverage Solar Site Design in their early design and customer acquisition process will achieve new efficiency gains and will be able to focus on winning permits, building more projects and growing their business.
About Solar Site Design
Solar Site Design is a collaborative, cloud-based content management platform that offers a complete project development solution for solar professionals. Our mission is to offer the Solar Site Design information technology platform to solar professionals worldwide.
Featured Product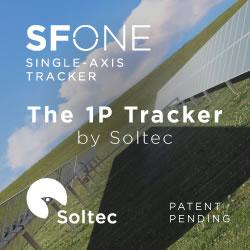 Under the slogan "engineered for greatness", the SF8 tracker aims to revolutionize the photovoltaic market with its new minimum 2x60 configuration and 4 to 6-strings. This tracker is elegantly designed while it reinforces its structure to perform in any terrain. In addition, the SF8 tracker increases the rigidity of its structure by 22% more than the previous generation of Soltec trackers, the SF7. The SF8 is specially designed for larger 72 and 78 cell modules, an increasing market trend.