With more than 100 attendees already confirmed, CSP TODAY LATAM 2013 has become the key event for the CSP industry in LATAM
CSP Today LATAM 2013 is the first event celebrated in Antofagasta, in a series that covers the concentrated solar power (CSP) industry worldwide. On 17-18 July, the "mining capital" of Chile will witness the coming together of all the main industry stakeholders. This includes CSP developers, EPC companies, suppliers, offtakers – such as mining companies and utilities – and key government and financial institutions such as the Chilean Ministry of Energy, CORFO and the KfW among others.

As the event gets closer, new updates have been released by CSP Today regarding the evolution of the program. The speaker list has been steadily growing and more than 20 new local and international speakers have been added to the line-up, taking the total of experts to well over 40. New additions include the likes of Abantia, IDOM, Alatec, ATA, Ingeteam, KfW, Minera El Tesoro, SCHOTT, S2M, SolarReserve and many more.
Furthermore the program has been complemented with new sessions. An in-depth analysis of the expectations and status of the CSP government bid will be conducted with the key institutions and stakeholders. A new financing workshop aimed for financial professionals has also been organized as a side event, and will be led by experts with years of experience structuring project finance for CSP plants.
The event will be also followed by a site visit to the CSP plant "El Tesoro" the day after the event, giving attendees the opportunity not only to see the first CSP operational plant in Latin America, but also to see how a mine operates. The 14MWt parabolic trough plant is the first of a kind and a benchmark for mining companies worldwide.
To find out more about the speakers, agenda and site visit for this event, please visit
http://csptoday.com/latam/en-index.php
Press Contact
Bea González
Marketing Manager
CSP Today
bea@csptoday.com
About CSP Today
CSP Today is the main business intelligence provider focusing exclusively in the CSP industry. CSP Today has been producing events, reports, news and eBriefs since 2007 and it specializes in global markets including USA, Europe, MENA, India, South Africa and LATAM. For more information please visit: www.csptoday.com
Featured Product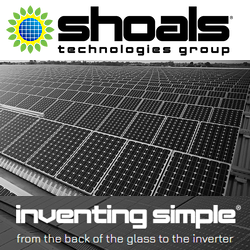 Inventing Simple® isn't just a slogan to us, it's a way of life. Using simple plug-and-play ideology, we revolutionized solar installations in 2003 with our Interconnect Systemâ"¢. Our harnessing system is now the gold standard EPC's use around the world. By using simple ideas, we are making solar energy a more affordable and clean power source for future generations.