Founding members of the Financing America's Investment in Renewables (FAIR) Coalition include leaders in the renewable energy industry and call for support of the Master Limited Partnerships (MLP) Parity Act
WASHINGTON--Leading renewable energy companies from across the country today announced they have formed a coalition to advocate for equal treatment between clean energy and fossil fuels that would allow average Americans to invest in renewable energy projects in the same way they do oil and gas projects. The coalition, called Financing America's Investment in Renewables (FAIR), supports a change in the law that currently allows oil, gas, coal and other "natural resources"-based energy projects, but not renewable energy projects, to use master limited partnerships (MLPs), a business structure that facilitates investment in qualifying projects. Such a change has been proposed in the bi-partisan Master Limited Partnerships (MLP) Parity Act recently re-introduced in both the US House and Senate.

The MLP Parity Act, which was introduced jointly by Senator Chris Coons (D-DE) and Congressman Ted Poe (R-TX), would give investors in renewable energy projects access the decades-old, tax-advantaged MLP structure that is currently available to investors in fossil fuel-based energy projects. An MLP is a business structure that is taxed as a partnership, but whose ownership interests are traded on an exchange like corporate stocks. This provides the state and federal tax benefits of a partnership with the liquidity of a publicly traded company. While MLPs have generated the abundant and affordable capital that has built the nation's modern oil and gas infrastructure, renewable energy assets are not currently eligible to use the MLP structure.
"The lower the cost of building renewable energy projects, the less consumers will have to pay for clean American energy, so that's why we are urging Congress to level the playing field to give all sources of domestic energy – renewable and non-renewable alike – access to the use of MLPs," said Paul Gaynor, the CEO of First Wind and one of the founders of the FAIR Coalition.
"Clean energy and economic opportunity are not partisan issues and we applaud bi-partisan efforts that are already underway to create a more predictable federal policy that will open up opportunities for millions of dollars of investment and new sources of clean energy," said Ray Henger, CFO of OWN Energy. "If enacted, the MLP Parity Act would translate into jobs, new sources of revenue for towns and communities, and new sources of clean energy at a competitive price for consumers."
The FAIR Coalition is already actively engaged in efforts to support the MLP Parity Act. Among other efforts, the FAIR Coalition has:
*Advised U.S. Sen. Chris Coons (D-DE) on recrafting the MLP Parity Act (S. 795), which was reintroduced last month with bi-partisan co-sponsorship and support.
*Drafted and helped circulate a letter of support for MLP treatment of renewables that attracted signatures from more than 220 companies and organizations in less than two weeks.
*Developed and launched a website (www.faircoalition.org) to update the public on the progress of the campaign and the MLP Parity Act, and to provide credible analytical and financial information about how MLPs could help build a broader investment base for renewable energy and lower the cost of capital for renewable energy projects.
*Participated in an invitation-only, half-day analytical workshop convened by Senator Coons' staff to review the economic modeling and analysis that has already been done to date on the subject and to identify additional work to be undertaken.
The MLP Parity Act would level the playing field between traditional and new energy businesses by allowing renewable energy-generation and transmission companies to form MLPs, providing them the liquidity advantages of public markets with the tax advantages of a partnership.
"The MLP could be an attractive financing vehicle for some of our renewable energy projects," said Jim Murphy, Chief Operating Officer of Invenergy LLC. "It would give us a viable public market option for a portion of our capital needs, much like oil, gas, and coal have enjoyed for decades."
The FAIR Coalition believes that the MLP Parity Act is not intended to be a substitute for the Production Tax Credit or the Investment Tax Credit, but could create a complement to those credits as part of a long-term renewable energy tax policy.
The bill would classify income earned from renewable energy sources as "qualifying income," thus extending the MLP structure to clean energy resources and infrastructure projects. Specifically included are a broad range of renewable energy resources and technologies that are described in sections 45 and 48 of the tax code, including wind, closed and open loop biomass, geothermal, solar, municipal solid waste, hydropower, marine and hydrokinetic, fuel cells, and combined heat and power systems. The legislation also allows for a range of renewable transportation fuels to qualify, as well as certain energy-efficient buildings, electricity storage, carbon capture and storage, renewable chemicals, and waste-heat-to-power technologies.
The law firm of Covington & Burling, LLP, is counsel to the coalition and is assisting the coalition membership in coordinating their activities.
About FAIR Coalition
The Financing America's Investment in Renewables (FAIR) Coalition represents a cross section of the leading businesses that are advancing the United States clean energy sector. The FAIR Coalition is advocating for a level playing field between clean energy and fossil fuels. Founding members include: First Wind, Vestas, Gamesa, OWN Energy, Everpower, Invenergy, Geronimo, Pattern Energy, juwi Solar and Keybanc Utility, Power and Renewables, Terra-Gen Power, and TradeWind Energy. For more information, please visit www.faircoalition.org.
Featured Product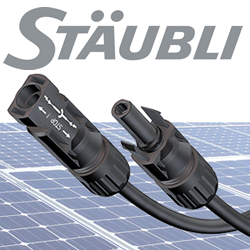 ​Stäubli Electrical Connectors are used on more than 300 GW, over 50% of the PV capacity worldwide. The MC4 family of UL and TUV listed products include connectors, in-line fuses, branch connectors, cable assembly and more.