Ampair returns to 6kW wind turbine market
Ampair, the Dorset based small wind turbine and power system manufacturer today announced the much anticipated re-launch of its Ampair 6000 6kW wind turbine. The company, which is the oldest wind turbine manufacturer in the UK prides itself on products that are all designed and manufactured in Britain.

In the time that has elapsed since its initial launch three years ago, many new features have been added, including, synchronised mechanical blade pitch control, a full authority electro-mechanical brake and an advanced multi-signal web interface monitoring package which is included as standard. The system also has a higher annual energy output and now also utilises the Gendrive inverter.
Ampair's sales and marketing Director Jeremy Davies says "nearly 80% of Ampair's sales are to export markets and the vast majority of these sales are to industrial or scientific customers who use our turbines in extreme weather or remote applications. What this means is that the Ampair 6000 has to be able to have a multi-layer protection system from extreme winds and similarly must be able to communicate the status of its subsystems along with historic local weather data to our customers and their maintenance crews."
The Ampair 6000's revised remote monitoring system includes over 20 system status signals such as temperature, voltage, frequency and weather sensors; the system also allows new firmware to be uploaded to the turbine to modify performance characteristics. The monitoring system can be configured to send alerts to nominated personnel if there is a suspected problem with the unit or if an extreme weather event has taken place.
"One of the biggest, unnecessary expenses for small wind turbine installers and remote site operators is caused by the necessity of having to send an engineer to site in order to understand what the actual system status is, and then an engineer will then potentially have to organise a second trip to perform any maintenance work. The Ampair 6000's monitoring system is designed to provide advance warning of any potential issues and to provide site engineers with the necessary insights to the situation to avoid the need for unnecessary site visits".
The Ampair 6000 is available in 220/240V single phase and 380/415V three phase grid-connected versions, and the 48V battery 'micro grid' version which is suitable for off-grid applications. The unit is now on sale internationally, for UK FIT customers the unit is expected to achieve MCS status in the early part of next year. Ampair are offering a deferred final payment option to UK FIT customers until the MCS certification is achieved.
For more information contact info@ampair.com or visit www.ampair.com
About Ampair
Ampair has been manufacturing high quality renewable energy power systems in the UK for almost forty years. Ampair wind and hydro turbines are renowned internationally for their durability in extreme environments. With nearly 30,000 systems sold to date, Ampair turbines and power systems are currently providing power to equipment in virtually every country and ocean on the globe. From Alaska to the Antarctic, the Solent to the Sahara, you will find Ampair turbines and renewable energy systems.
Ampair are frequently selected for harsh weather locations, such as for oilfield and pipeline relay stations in Alaska, by Cable and Wireless in the Falklands, by British Antarctic Survey and the USGS for polar research, and by utilities such as Shell, ConocoPhillips, SSE, Vattenfall or Pacific Gas & Electric, as well as private individuals and government agencies worldwide. All Ampair turbines are marine grade and are manufactured by Ampair in the UK.
As well as manufacturing the Ampair range of wind and hydro turbines, Ampair also design and manufacture customised renewable and distributed energy systems for on and off-grid use. These integrate an appropriate range of renewable and conventional energy sources and stores such as wind turbines, solar panels, battery systems, fuel cells, diesel engines, flywheel storage, etc. Key to this capability is Ampair's in-house developed stochastic system modelling tool proAmpair™ which allows Ampair to confidently predict power availability, reliability, cost, and maintenance needs worldwide at 1-hour resolution and any scale of system.
This experience and these capabilities allows Ampair to guarantee unattended system performance in the harshest of conditions without oversizing systems and needlessly inflating client costs. These systems are used for telecommunications, industrial power, border surveillance, domestic and leisure purposes. They can be supplied as containerised or fixed onshore or offshore installations, or as road and air-mobile heliPods™ and trailerPods™.
See www.ampair.com for more information.
Featured Product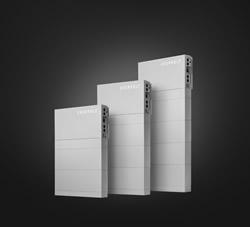 Renewable energy stored in an EVERVOLT home battery system is the perfect backup plan against an uncertain utility grid and weather events. Run key appliances longer and live life when the unexpected happens. EVERVOLT battery storage systems are covered by a complete 12-year warranty from Panasonic.