BMW Manufacturing Facility in Spartanburg, SC, Expands Use of Clean Energy in Its Material Handling Trucks and Forklifts
LATHAM, N.Y., June 6, 2013-- Plug Power Inc. (Nasdaq:PLUG), a leader in providing clean, reliable energy solutions, today announced that BMW Manufacturing Co. recently expanded the use of Plug Power hydrogen fuel cells at its Spartanburg, South Carolina facility to power all material handling trucks and forklifts, bringing its clean energy fleet to 275 units. This makes it the largest such fleet in North America.

BMW maintains a commitment to environmental responsibility and continues to incorporate efficient, alternative technology in its production processes whenever possible. In 2010, after installing a storage and distribution area for hydrogen supplied by Linde Industrial Gases near its 4 million-square-foot production facility in Spartanburg, BMW equipped more than 100 forklift trucks and pallet jacks in its X3 assembly hall with Plug Power's GenDrive™ hydrogen fuel cell system. Now, BMW has added GenDrive units to another 175 trucks and forklifts in the assembly hall for its X5 and X6 automobiles and in its paint and body shops.
Clean GenDrive hydrogen fuel cells are an alternative to lead-acid batteries in the $20 billion global material handling market. Use of the fuel cells lowers operational costs, produces zero emissions and improves reliability. Fuel cell usage also eliminates the need for large battery storage and charging rooms, freeing up valuable production space and removing any lead and sulfuric acid contamination from the work environment. Since battery charging is no longer required, total electricity demand is reduced and the fees associated with battery recycling and disposal are eliminated.
BMW chose to deploy GenDrive fuel cells in its manufacturing center to full take advantage of those and other benefits, such as increased productivity for both vehicle operators and production. Material handling trucks powered by fuel cells run longer at full speed unlike battery-powered trucks that experience voltage drops and speed reductions of approximately 14% when a re-charge is needed. Re-fueling can be completed in two minutes or less, as opposed to the 20 minutes required to replace a battery.
"BMW's ongoing commitment to clean production is evident in our recent expansion of our hydrogen fuel cell program," said Duncan Seaman, BMW Group, Head of Market Operations, Americas. "We appreciate Linde's partnership in supporting the expansion, making our entire operation more sustainable."
"The expansion of BMW's hydrogen fuel cell material handling fleet in Spartanburg makes BMW one of the world's largest users of hydrogen fuel cells at a single site," said Andy Marsh, CEO at Plug Power. "This milestone is significant because it demonstrates that a GenDrive solution can profitably scale to bring enormous benefits to the organization including increased productivity, cost savings and carbon-footprint reductions."
For a broadcast quality video of this customer installation, visit: http://www.plugpower.com/AboutUs/Documentation_Literature/BMWvideo2.aspx.
About Plug Power Inc.
The architects of modern fuel cell technology, Plug Power is revolutionizing the industry with cost-effective power solutions that increase productivity, lower operating costs and reduce carbon footprints. Long-standing relationships with industry leaders forged the path for Plug Power's key accounts, including Walmart, Sysco, P&G and Mercedes. With more than 4,000 GenDrive units deployed to material handling customers, accumulating over 8.5 million hours of runtime, Plug Power manufactures tomorrow's incumbent power solutions today. Additional information about Plug Power is available at www.plugpower.com.
Featured Product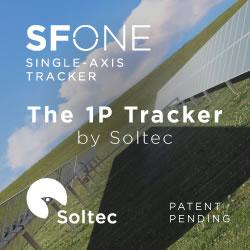 Under the slogan "engineered for greatness", the SF8 tracker aims to revolutionize the photovoltaic market with its new minimum 2x60 configuration and 4 to 6-strings. This tracker is elegantly designed while it reinforces its structure to perform in any terrain. In addition, the SF8 tracker increases the rigidity of its structure by 22% more than the previous generation of Soltec trackers, the SF7. The SF8 is specially designed for larger 72 and 78 cell modules, an increasing market trend.