Poll of More than 1,300 Green Small Businesses to Evaluate Possible Competitive Advantage Over Other Small Businesses
WASHINGTON, DC.///NEWS ADVISORY//How do the bottom lines of small businesses

that adopt green practices fare in comparison to those that do not? A new
survey and related report will be released by Green America (GA),
EcoVentures International (EVI), and the Association for Enterprise
Opportunity (AEO) on Thursday, June 6, 2013 at 1:30 p.m. EDT during a live,
phone-based national news teleconference.
The first-of-its-kind survey of 1,305 businesses was prepared by Dr. Julie
Cincotta, principal, CLA Organizational Solutions, LLC. The poll looks at
whether sales increased or decreased when businesses offered green products
or services, whether environmental business practices influenced consumer
preference, and whether green services and products made businesses more or
less competitive. The accompanying report from the three groups explores the
practical implications of the survey findings.
Dr. Cincotta will join the following three news event speakers:
* Russ Gaskin, chief business officer, Green America;
* Lauren Frederic, program manager, EcoVentures International; and
* Tammy Halevy, senior vice president, New Initiatives, Association for
Enterprise Opportunity.
TO PARTICIPATE: You can join this live, phone-based news conference (with
full, two-way Q&A) at 1:30 p.m. EDT on June 6, 2013 by dialing 1 (800)
860-2442. Ask for the "green small business report" telenews event.
CAN'T PARTICIPATE?: A streaming audio replay of the news event will be
available on the Web at http://biggreenopportunity.org/ as of 5 p.m. EDT on
June 6, 2013.
ABOUT THE GROUPS:
Green America is the nation's leading green economy organization. Founded in
1982, Green America (formerly Co-op America) provides the economic
strategies, organizing power and practical tools for businesses and
individuals to solve today's social and environmental problems. Green
America's Green Business Network helps small businesses adopt and benefit
from their green practices through an assessment and certification program,
discounted business services, and access to a national market of caring
consumers. http://www.GreenAmerica.org.
The EcoVentures International helps small business harness the power of
environmentally and socially responsible "green" practices to grow revenue,
create jobs, and strengthen local economies. EVI deploys strategies that
promote sustainable, market-based business development by working with
citizens, businesses, community organizations, and industry stakeholders.
http://eco-ventures.org/.
The Association for Enterprise Opportunity is the national trade association
for U.S. microbusiness and microfinance. For more than two decades, AEO and
its hundreds of member organizations have helped millions of entrepreneurs
grow businesses to support themselves and their families as they contribute
to their communities. http://www.aeoworks.org/index.php/site/.
Featured Product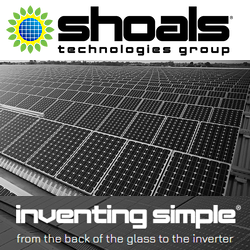 Inventing Simple® isn't just a slogan to us, it's a way of life. Using simple plug-and-play ideology, we revolutionized solar installations in 2003 with our Interconnect System™. Our harnessing system is now the gold standard EPC's use around the world. By using simple ideas, we are making solar energy a more affordable and clean power source for future generations.