Attendees of PV Project Development Africa (27-28 August, Johannesburg) will be given a unique opportunity to visit the 7MW RustMo1 Solar Farm which has been awarded approved bidder status in Round I of South Africa's REIPPP tender.
The RustMo1 photovoltaic plant is set to come online in November 2013 and delegates will be able to get an exclusive first look at the facility on the morning of 26 August. Jack Ahearne, the organizer of PV Project Development Africa, announced the news on Wednesday 5 June. "With RustMo1 scheduled to be one of the first projects to come online in South Africa, as part of the Renewable Energy Independent Power Producer Programme (REIPPP), interest in seeing the plant has been enormous" he said. "We are delighted to give attendees of PV Project Development Africa the chance to tour the plant and see a key milestone in the progress of the South African PV industry".

The RustMo1 plant has a power output of 7MW, and will supply power to the Eskom grid upon commercial operation, scheduled for November 2013. The plant is located in Buffelspoort, 22 kilometres outside the city of Rustenburg in the North West Province. The 19 hectare site will consist of 29,808 photovoltaic solar modules upon completion, as well as 11 inverters and a step up transformer to connect to the 88kV substation.
In August, attendees at PV Project Development Africa will be taken on an exclusive tour of the facility by its developers, Momentous Energy, a South African black-owned development company.
To see more details on the site visit, as well as PV Project Development Africa 2013, please visit:
http://www.pv-insider.com/africa/site-visit.php
Or contact Jack Ahearne by email at jack@pv-insider.com
Featured Product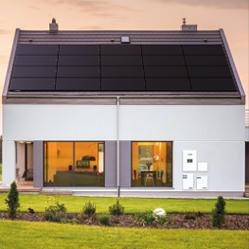 The Q.Home+ ESS HYB-G1 energy storage solution offers scalable storage capacity from 4.5 kWh up to 18.9 kWh and comes in a modular design for easy and fast installation. The system is offered in both DC-coupled and AC-coupled configurations and can connect up to 3 batteries in series using only one inverter and battery management system (BMS). The system includes an integrated backup power function for 100% of the rated inverter output to support critical loads in the event of power failure and offers remote monitoring using the QHOME+ web portal or QHOME+ ESS mobile app.