Maine will also be heavily represented through industry expertise with technical presentations
June 7, 2013

The State of Maine will have another strong showing that the annual Energy Ocean International Conference to be held in Providence Rhode Island next week, June 10-12. Maine has developed a reputation of global leadership through this conference. The development of offshore wind and tidal technologies, plus the technical strength from Maine businesses has enhanced the state's reputation as an industry leader.
For the third year in a row, the Maine Ocean & Wind Industry Initiative will organize a Maine Industry Pavilion at the conference. Within the pavilion 12 companies will be exhibiting: Pole Star Marine, Kenway Corp., RM Beaumont Corp., Cianbro, Reed& Reed, Maine Maritime Academy, SGC engineering, SMD/Blue Water Dynamos, Statoil, Maritime Applied Physics Corp., Custom Composites, Namandeau Associates.
Maine will also be heavily represented through industry expertise with technical presentations provided by: Jessica Jansujwicz, Postdoctoral Fellow, University of Maine; Tom Twist, Sustainability Officer, Chewonki Foundation; Paul Williamson, Director of the Maine Ocean & Wind Industry Initiative; Kathryn Williams, Wildlife and Renewable Energy Program Director, Briloon Biodiversity Research Institute; Suzanne MacDonald, Community Energy Director, Island Institute; James Monroe, Director of Products & Processes, Blue Water Dynamos.
Featured Product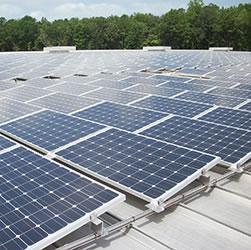 The Power Rail™ Commercial Mounting System is designed with the professional PV solar installer in mind. Both the XD/UD and LD/MD rails feature single tool assembly with the revolutionary patented RAD™ Lock-in-Place bolt for fast and secure module clamping. The high strength marine-grade aluminum rails include an integral wiring channel for securing cables and providing a professional finish.