Petra Engineering has been approved to develop a solar energy project on a closed landfill site in Surry County, NC.
Mount Airy, NC: The Mount Airy Board of Commissioners has approved a solar photovoltaic power plant to be built on a closed city landfill site. The landfill had operated for at least 10 years before being closed in 1983. Petra Engineering PLLC, located in Huntersville, NC will be developing the solar project on the closed landfill site. Wayne Marshall, a Principal of Petra Engineering, says the solar farm represents a win-win situation for both parties in utilizing a brownfield location. A brownfield refers to properties not developed because of environmental contamination. Plans call for the electricity generated from the project to be sold to Duke Energy.

Petra Engineering, a 10-year-old company, already has a presence in Surry County with another effort. "We're already doing a landfill gas-to-electric project at the Surry County Landfill," Marshall said of a process to reclaim methane gas generated in the large facility off Hiatt Road. "We're involved with multiple projects."
Recognizing the potential of the old city landfill property to generate solar energy was a natural extension of that presence. "The site is a good option for this kind of project," Marshall said. "It made sense."
The solar farm will sit on up to 30 acres of the closed landfill and could generate up to 5 MW's of electricity.
"When you can make use of an old landfill, it's an awesome project," said Martin Collins, Mount Airy's community-development director, who has been involved with the previous solar farms.
"Petra believes in utilizing renewable energy options and solutions that make sense", says Marshall. "With the reduced cost of Solar technology over the past few years it has become a more viable clean energy alternative."
Petra Energy is currently working towards developing a similar solar project on Loy Farm for Elon University. The project is projected to generate 1.5 MWs of electricity to be sold to Duke Energy.
Marshall says he applauds the Surry County Board of Commissioners for their foresight in increasing their reliance on alternative forms of energy. "The time has come for the great state of North Carolina to pursue more energy options that are less harmful to the environment", says Marshall. "It is our responsibility and should be encouraged."
Petra Engineering was founded in 2003 as a single-source provider of comprehensive energy and renewable services. By integrating renewable energy, demand-side and supply-side solutions, Petra Engineering works with its clients to leverage and optimize alternatives, reduce operating expenses, upgrade and maintain facilities, increase energy reliability and enhance the environment. For more information, visit www.petraeng.com
Featured Product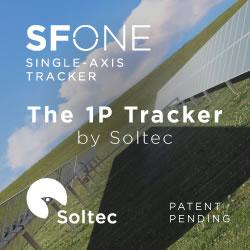 Under the slogan "engineered for greatness", the SF8 tracker aims to revolutionize the photovoltaic market with its new minimum 2x60 configuration and 4 to 6-strings. This tracker is elegantly designed while it reinforces its structure to perform in any terrain. In addition, the SF8 tracker increases the rigidity of its structure by 22% more than the previous generation of Soltec trackers, the SF7. The SF8 is specially designed for larger 72 and 78 cell modules, an increasing market trend.