Start of Solarpraxis and pv magazine investment workshop series
Berlin, 12/06/2013. Turkey is one of the most promising new photovoltaic markets. This was the result of the first investment workshop organized by Solarpraxis AG and pv magazine in the "PV in ....." series. Around 50 people participated in the event on the Turkish PV market, which took place in Berlin on June 6, 2013. The workshop series provides up-to-date information and expert knowledge on photovoltaic growth markets.

Turkey is expecting 4 to 6 GW of additional output to be installed by 2020. Financing and the Turkish bureaucracy are hurdles that still need to be overcome. For the moment, short-term investments in commercial rooftop systems for self-consumption with a power rating of up to 1 MW offer the best opportunities. "The growing energy demand of the country's booming economy and the high electricity prices are the main drivers behind Turkey's PV market," stressed Matthias Kittler from consulting firm Apricum. Currently, a kilowatt hour of electricity costs around $0.14 (TRY 26) for the industrial sector and $0.16 (TRY 32) for private households. Electricity prices have increased an average of 11% a year since 2006. In order to meet the growing demand for electricity, the country would need new power plants with a capacity of 29 GW by 2021 while also replacing outdated plants with a generating capacity of 20 GW, said Kittler. The political desire for greater independence from Russian and Iranian gas imports coupled with a sharp fall in prices of photovoltaic systems offer enormous opportunities for solar power in Turkey.
"The interest in photovoltaic is growing rapidly," said Kittler. The time is now ripe for solar power in Turkey to grow beyond its niche. Indeed, by the end of 2012, Turkey had less than 10 MW of installed PV systems. Kittler expects the number of PV systems in the country to double annually through 2020, an increase of installed capacity of between 500 and 800 MW in 2015 and a rise of between 3.8 and 6.5 GW by 2020. He also sees average PV electricity production costs of less than $0.15 per kilowatt hour as achievable. Commercial rooftop systems of up to 1 MW and ground-mounted facilities of more than 1 MW are the country's main growth areas.
Turkey's current feed-in tariff is $0.133 per kilowatt hour with a duration of 10 years. For a five-year term, a surcharge of $0.067 is paid for electricity from PV systems with a high proportion of locally produced components. Plants with a capacity of up to 500 kW can be operated without a license. According to Engin Yaman of China Sunergy (CSUN) Europe, the government is expected to approve legislation that will increase this licensing limit to 1 MW in the next few weeks.
The licensing process for larger installations (more than 500 kW to 1 MW) will begin on June 10. Applications can be filed with the regulator EPDK by June 14. This first round of licensing for large systems is limited to 600 MW. Niels Kröner of the AEE Renewables Group explained that experiences with the Turkish bureaucracy have so far been "very sobering" and that the authorities are often extremely slow at implementing laws once they have been passed. Even for the smaller license-free PV systems, the necessary permits can often take up to nine months. Additional problems are posed by complicated property laws and different cultural perceptions of long-term contracts, not to mention financing difficulties. Firstly, photovoltaic projects are new territory for the banks. In addition, expected returns for such projects are often in the double digits. AEE Renewables has had its best experience with pilot projects that have had no participation of local banks, such as a 10 kW rooftop system atop the Honda factory in Gebze.
Stefan Müller, CEO of Enerparc, sees great potential in commercial rooftop installations for on-site consumption that are financed by Turkish companies themselves. Moreover, the diverse economic and cultural relations between Germany and Turkey are seen as very conducive to the involvement of German companies in the country. Other advantages for German companies include the very good logistical links between the two countries, the fact that Germans do not need a visa to travel to Turkey and the possibility of duty-free imports.
The next investment workshop on the promising markets of France, Latin America, Japan, and the Gulf Region will take place in Berlin on September 3 and 4, 2013.
For more information on the workshop series and the programs, please go to our website: http://www.solarpraxis.de/en/conferences/investment-workshop-series/general-information/.
About Solarpraxis:
Solarpraxis is one of the leading knowledge providers in the renewable energy sector. It offers expertise and professional services spanning engineering, conferences and publishing. Solarpraxis has been organizing industry gatherings for decision-makers since 1998. These include, alongside the Forum Solarpraxis - the oldest event organised by Solarpraxis, numerous other conferences, including events in Europe, the Middle East, and China amongst others.
Featured Product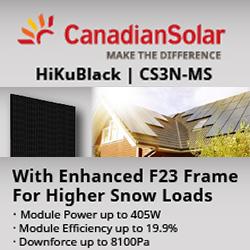 Aesthetic appearance for residential systems: With black backsheet & black frame, Power range 380 ~ 405 W, Low power loss in cell connection. Enhanced reliability: · Low temperature coefficient (Pmax): -0.34 % / °C, LID LeTID less than 2.0%, Lower hot spot temperature, Better shading tolerance.