Quick Mount PV Named California's 14th Assembly District "Small Business of the Year"
SACRAMENTO – Quick Mount PV founders Claudia and Stuart Wentworth were honored Monday by Assemblywoman Susan A. Bonilla (D-Concord), who declared Quick Mount PV the "14th Assembly District Small Business of the Year" at a ceremony held at the Sacramento Convention Center.

Founded in 2006, Quick Mount PV manufactures code-compliant, waterproof solar mounting products for attaching solar panels to commercial and residential roofs. At its facility and headquarters in Walnut Creek, the company has enjoyed continued success in the solar industry while concurrently promoting sustainable business practices, industry training and education, and workforce and community development.
"Quick Mount PV has been very successful in developing cost-effective solar panel mounts for business and residential customers," said Bonilla. "This Walnut Creek business is a prime example of successful environmental business practices and community involvement. Quick Mount also dedicates time and resources to training and has a sustainable garden, which provides fresh produce for its company lunchroom. I am proud to honor this business which supports the economic vitality of the 14th Assembly District."
Assemblywoman Bonilla toured Quick Mount PV's ISO 9001:2008-certified manufacturing facility on June 7, showing particular interest in the company's environmental and sustainability practices, and the company's commitment to working with the Workforce Development Board of Contra Costa County to spur local job growth.
"We are honored to accept this award and we thank Assemblywoman Bonilla and her staff for their support," said Claudia Wentworth. "Manufacturing in the USA and creating jobs in California is a core tenet of our business philosophy. Locating our manufacturing facility in the East Bay has proved a great benefit in attracting executives, professionals, and a skilled workforce."
Each year, the State Assembly recognizes contributions of small business providers and their important role in the creation of jobs and growth for the California economy. The day began with workshops coordinated by the California Small Business Association, followed by the Salute to Small Businesses Awards Luncheon.
About Quick Mount PV
Quick Mount PV manufactures building-code-compliant, waterproof solar mounting systems for installing solar electric and solar hot water systems on residential and commercial rooftops. Founded in 2006, Quick Mount PV is committed to sustainable business practices, ongoing industry training and education, and manufacturing in the USA. For more information, visit www.quickmountpv.com.
About Assemblywoman Susan Bonilla
Assemblywoman Susan A. Bonilla was first elected to the Assembly in November 2010, and represents California's 14th Assembly District, which is comprised of the north and central portions of Contra Costa County and southern portion of Solano County.
Featured Product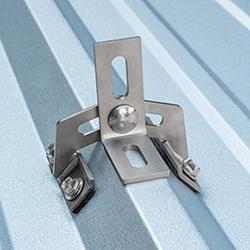 They have been changing the game for 10 years with their original Top Mount line for Asphalt Shingle roofs, and by now supplying one of the widest ranges of solar mounts in North America. From their patented products, to the custom production services they offer, QuickBOLT has been working with solar installers for nearly a decade to make solar installations easier than ever before.