The company AL PRO GmbH is already distributing meteodyn WT and meteodyn Forecast software in Germany. Through its subsidiaries, we've decided to extend our cooperation to Canada and Brazil.
We are very satisfied with AL-PRO commitment in Germany. In just 1 year, they've succeeded in establishing meteodyn WT on that wind energy market. From now we entrust AL-PRO with the sales of meteodyn WT and meteodyn Forecast through its subsidiaries in Canada and Brazil. We know we can rely on AL-PRO expertise in CFD modeling and wind resource assessment.

Meteodyn WT is a Computational Fluids Dynamics (CFD) wind modeling software for wind resource assessment, site suitability, wind farm design layout and energy optimization.
Meteodyn Forecast is a complementary tool to compute wind production forecast for a turbine or the whole park.
Meteodyn continues to develop its presence worldwide. We want to make our software easy to access thanks to a partner offering high-quality advice and training on site. AL-PRO fully meets these requirements. Indeed, the company is specialized in CFD wind modeling and wind resource assessment. He's the perfect representative to provide local distribution and then a performing service support.
To know more about Meteodyn:
http://meteodyn.com/en
To know more about AL PRO Canada and AL PRO Brazil:
http://www.al-pro.de/hp/en
About Meteodyn
Headquartered in Nantes-France, Meteodyn operates offices in China, India, USA and New Caledonia.
For 10 years, Meteodyn has been the leading expert in wind engineering, CFD wind modeling software and climatology. Meteodyn wind energy software are already used by the major wind industries in the world. Meteodyn also provides a wide range of consulting services to develop profitable wind park.
Featured Product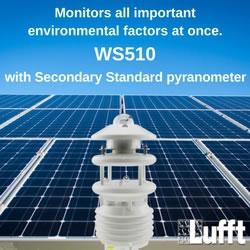 Professional weather sensors form the heart of large solar plants supporting their operation and performance. Lufft was the first manufacturer to combine several sensors in one housing, bringing the largest multiparameter weather sensor family with 19 members into being. Many of them are well-suited for solar site assessment and continuous monitoring. The most commonly used one is the WS600 delivering data on temperature, air pressure, wind, relative humidity and precipitation. Through its open protocol, it can easily be attached to radiation sensors e.g. from Kipp&Zonen. Other models have an integrated Silicon, Second Class or Secondary Standard radiation sensor.