BenQ Solar also offers high efficiency DC solutions with back-contact cell technology.
Hsinchu, Taiwan, June 17, 2013 – To meet the significant demand for residential solar products, BenQ Solar, the world's leading solar solution brand, announced today that it has successfully deployed high value-added and reliable total solutions for homeowners in the European solar market.

BenQ Solar partnered with IRFTS, the specialist renowned for Easy Roof Evolution systems, to develop an exclusive building-integrated photovoltaics (BIPV) mounting systems, based on 20% high efficiency SunForte module, that are flexible and easy to install for customers in France and the Benelux countries.
In Italy, AC Unison, the high performance and integrated AC module total solution, will be available. The system comes with high efficiency poly-crystalline modules matched with built-in micro-inverters and web-based monitoring platform, and is capable of harvesting 5 to 20% more energy than conventional counterparts. Outstanding performance can be maintained even under partial shading. True plug-and-play design is featured, reducing installation time by up to 50%. The absence of high voltage DC also allows safe installation and ownership.
BenQ Solar also offers high efficiency DC solutions with back-contact cell technology. The SunForte module series, boasting a high efficiency of over 20%, now presents a new generation product compatible with transformer-less inverters under high voltage conditions. The panels' building-integrated photovoltaics (BIPV) mounting systems Easy Roof Evolution can also enjoy 10-year product guarantee from IRFTS.
As an integral part of the total solution, BenQ Solar provides smart energy storage systems, either equipped with lead-acid or lithium-ion batteries, for customers to choose from. Users will be able to better harness energy and effectively increase self-consumption.
To promptly serve customers, BenQ Solar is capable of offering high efficiency and quality made-in-Europe PV modules from its production site in the Czech Republic. Come witness all these residential total solar solutions first hand at booth A1.556 in Intersolar Europe 2013!
About BenQ Solar
BenQ Solar is a division of AU Optronics Corp. AU Optronics manufactures and markets its PV products globally by using BenQ Solar as its solar product brand. As a total solution provider, BenQ Solar specializes in providing high efficiency solar solutions that cater to residential, commercial and utility customers. With a complete Solar Value Chain, including polysilicon, ingot, wafer, cell, module and system production, BenQ Solar prides itself on offering premium quality and reliable performance and has successfully accomplished many large solar power plants projects in Europe, Asia and Africa. BenQ Solar products meet and exceed internationally recognized standards, including JET, JPEC, IEC, UL, MCS and CEC. Please visit BenQSolar.com.
About AU Optronics
AU Optronics Corp. (AUO) is one of the world's leading providers of optoelectronic solutions. AUO offers a full range of panel sizes and comprehensive applications ranging from 1.5 inches to 65 inches. Based on its profound R&D and manufacturing experience, AUO continues to develop advanced display technologies of the next generation. AUO extended its market to the green energy industry in 2008. By building a vertically integrated high-efficiency solar value chain, AUO provides its customers with high-efficiency solar solutions. AUO now houses a staff of more than 45,000 employees, with global operations in Taiwan, Mainland China, the U.S., Japan, South Korea, Singapore, the Netherlands, Czech and Slovakia. Additionally, AUO is the first pure TFT-LCD manufacturer to be successfully listed at the New York Stock Exchange (NYSE). AUO has also been named to Dow Jones Sustainability World Index for three consecutive years from 2010 to 2012. AUO generated NT$378.5 billion (US$ 13.03 billion) in sales revenue in 2012. For more information, please visit AUO.com.
Featured Product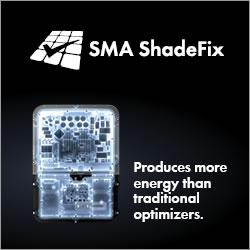 A recent university study showed SMA ShadeFix optimization produces more energy than traditional optimizers. It also utilizes far fewer components, reducing the need for costly service visits. Systems with ShadeFix optimization and SunSpec certified shutdown devices are the ideal solution for residential and commercial PV systems. Visit SMA's website to learn more and download the whitepaper.