Featured passive components will include surface-mount Vishay Dale Power Metal Strip® current sense shunt resistors for solar inverters and DC/DC conversion.
MALVERN, Pa. — June 14, 2013 — Vishay Intertechnology, Inc. (NYSE: VSH) will be showcasing semiconductors and passive components for solar panel junction boxes and inverters as well as advanced energy conversion, energy management, and smart grid applications in booth A4.354 at the Intersolar Europe 2013 exhibition, taking place June 19-21 at the Munich Trade Fair Centre in Munich, Germany.

Featured passive components will include surface-mount Vishay Dale Power Metal Strip® current sense shunt resistors for solar inverters and DC/DC conversion. The same product family features high-current (up to 1000 A) battery and meter shunts for charge controlling large battery systems and inclusion in smart meters. Also featured will be Vishay ESTA power capacitors for DC linking in high-power solar converters; Vishay Vitramon surface-mount multilayer ceramic chip capacitors for safety-certified applications such as lightning strike and voltage surge protection; and LPS power thick film resistors for snubber, chopper, pre-charge, discharge, and filtering resistor applications in large-scale solar inverters and PV installations.
Additional passive components on view for solar inverter applications will include AEC-Q200-qualified Vishay Beyschlag MELF resistors, Vishay BCcomponents snap-in aluminum capacitors with high ripple current capabilities, and Vishay Roederstein film capacitors for DC-link applications.
Vishay semiconductor products, including newly released Vishay Siliconix 100 V to 150 V medium-voltage ThunderFET® power MOSFETs, address a wide range of high-efficiency power conversion applications. Featured semiconductor products at Intersolar Europe 2013 will include optocouplers and solid-state relays for high-voltage and noise isolation, DC/AC inverters, alarms and fans, and high-speed communications ports. The Vishay exhibit will also feature new Gen2 650 FRED Pt® ultrafast diodes being offered in bare die form and with rated currents from 4 A to 150 A. In addition to discrete components, Vishay is also featuring new power semiconductor modules featuring a solderless pressfit contact technology that simplifies the assembly process for up 10 kW three-phase inverters.
An overview of Vishay's components for alternative energy applications can be viewed at www.vishay.com/landingpage/tradeshows/virtual/alternative/.
Vishay Intertechnology, Inc., a Fortune 1,000 Company listed on the NYSE (VSH), is one of the world's largest manufacturers of discrete semiconductors (diodes, MOSFETs, and infrared optoelectronics) and passive electronic components (resistors, inductors, and capacitors). These components are used in virtually all types of electronic devices and equipment, in the industrial, computing, automotive, consumer, telecommunications, military, aerospace, power supplies, and medical markets. Vishay's product innovations, successful acquisition strategy, and "one-stop shop" service have made it a global industry leader. Vishay can be found on the Internet at www.vishay.com.
Featured Product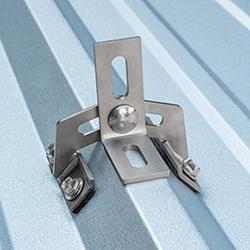 Error-Proof Compression: The QB2 doesn't leave any room for user error when it comes to Microflashing® compression. Once the Dual Drive Shoulder Screw is secured, the Microflashing® is compressed. Only 3 Components: The QB2 is comprised of Microflashing®, an L-foot and a Dual Drive Shoulder Screw. No more Nuts needed to tighten and secure the L-foot! Not only does this simplify the installation process, it also cuts down the installation time.