At the recent Windforce 2013 exhibition in Bremerhaven (Germany) Windea Offshore Group signed a Letter Of Intent (LOI) with Damen Shipyards Group for a new Fast Crew Supplier, a Twin Axe catamaran for the Offshore Wind industry. A typical feature of the FCS 2610 is the double Damen Sea Axe bow which creates a large uptime-window, amongst others by reducing slamming up to 70%. Windea Offshore is currently expanding its Offshore Wind activities, such as transporting personnel and maintenance staff to and from Offshore Wind Farms.
The Twin Axe is being built at Damen Shipyards Singapore. Windea plans to deploy the vessel end of August 2013 and will mainly use it for transporting technical staff to and from wind turbines.

The FCS 2610 design enables the vessel to safely transfer personnel at wave heights of more than 2.5 metres. Other distinctions are the maximum speed of 26 knots and the low fuel consumption, another result of the low-resistance double Sea Axe bow.
20 stock vessels
In order to serve growing demand for this type of Offshore Wind high-speed support vessel (of which Damen has sold 20 in two years' time), some 20 vessels are currently being built for stock. Part of this stock can be outfitted and finished according to customer's demands. Because of its standardisation and stock-building philosophy, Damen offers very short delivery times.
The Twin Axe 2610 offers accommodation for a crew of four and 12 passengers. The lay-out and structure of the deck is such that it is possible to load various types of cargo with the onboard crane, including containers weighing up to 20 tonnes.
VIDEO
A short video of this vessel type is available at youtube.com
click on: http://www.youtube.com/watch?v=9s5Xb5aBDD0
Featured Product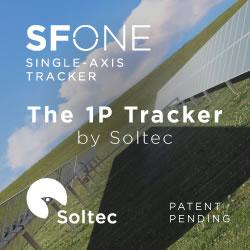 Soltec manufactures and supplies solar trackers designed and proven for extreme climate conditions, which is an ideal solution for any region's environment. Soltec's trackers are self-powered, requiring no additional PV module or grid-powered connection. Bifacial modules collect energy on both the front and rear sides, capturing reflected irradiance from the ground surface under and around the tracker and from other modules. Depending on site conditions, bifacial yield-gain can reach +30 percent.