Ohio Brick Manufacturer adds solar to hedge against cost increases; clean energy investment with amazing pay-off time and return on investment
Canton (Ohio), June 19, 2013. -- In manufacturing, often times the highest cost budgeted for a company is its energy usage, often times meaning their electricity demands. For Belden Brick of Canton, OH, the sixth-largest brick manufacturer by volume in the United States, they are no different. Cost stability and reduction has been high on their list of priorities and generating their own electricity is one of many ways to accomplish their goals.

Belden Brick contracted Paradise Energy Solutions, a solar installer with five branches serving nine states and a branch here locally in Sugarcreek, to install their 400 panel solar system on the roof of their facility in Sugarcreek. The system was completed in March and while it offsets just 20% of the company's electricity demands at the Plant 2 Prep Plant in Sugarcreek, it represents a step to energy independence and environmentally friendly electric usage.
"The Belden Brick Company has been engaged in studying our electric usage to find the best strategy to reduce or stabilize our cost," said Brad Belden, Corporate Manager for Occupational & Regulatory issues for Belden Brick. "While energy efficiency has played a major role in that strategy, generating solar electricity serves us as an environmentally friendly way to stabilize a portion of our electric usage for years to come"
In addition to the electricity cost offsets, Belden Brick was able to offset the total cost of the system using the 30% Federal Tax Credit, the now-expired AEP Commercial Solar Rebate, 50% bonus depreciation through 2013. The system will pay for itself in just three years and will generate a significant return on investment.
Along with a 30-year warranty on the solar panels from US-based provider MAGE SOLAR and the 10-year manufacturer's warranty on the inverters, Paradise Energy Solutions provides its customers with its own two-year performance guarantee and five-year workmanship warranty. The system is guaranteed to produce nearly 120,000 kWh annually.
"Paradise Energy Solutions emerged from the group as the best fit due to a combination of factors such as great customer service, competitive pricing, and their location being so close to ours," said Belden. "The system is outperforming the output guarantees thus far, and the system has been maintenance free so far."
Belden worked with Paradise Energy Solutions' Solar Consultant Sheldon Stutzman on the 100 kW system and Stutzman believes that now is the time for businesses in Ohio to embrace Solar as a source of additional revenue; almost like a second business.
"Solar allows a business to increase their bottom line by utilizing the roof of their building to quietly generate all or part of their electricity demand while they continue to do what they do best inside their building," said Stutzman.
MAGE SOLAR – The Sun on Your Side
MAGE SOLAR USA, headquartered in Dublin, Georgia, specializes in complete solar systems and provides high-quality photovoltaic modules, intelligent mounting systems and high-performance brand inverters. As a subsidiary of the international MAGE GROUP, it uses the Group's 40 years of know-how to develop optimally coordinated system solutions. A competent partner network guarantees profitable solar energy systems for customers throughout the Americas and in 21 more countries in Europe, Asia, Africa, and Australia. In 2011, the company generated U$280 Million in sales with around 180 employees.
www.magesolar.com
www.facebook.com/magesolar
www.twitter.com/mage_solar
www.linkedin.com/company/mage-solar-projects-inc
About Paradise Energy Solutions
Paradise Energy Solutions, LLC is an experienced and qualified solar energy contractor with offices in Pennsylvania, Illinois, Maryland, Massachusetts, New York and Ohio. They are a fully licensed and insured Solar Energy Contractor in Pennsylvania (PA), New Jersey (NJ), Maryland (MD), Delaware (DE), New York (NY), Massachusetts (MA), Ohio (OH), and Illinois (IL). They are also an "Approved Solar PV Installer" under many state rebate programs in the states listed. Paradise Energy has 45 employees and has installed a total of over 5 megawatts of solar-power as of the end of 2012. In addition, Paradise Energy Solution's CEO Tim Beiler and several other team members have earned the industry's leading recognition of expertise as a certified installer of solar electric systems (aka "photovoltaic" or "PV" systems) and certified technical sales from the North American Board of Certified Energy Practitioners (NABCEP).
www.paradisesolarenergy.com
www.linkedin.com/company/paradise-energy-solutions-llc
www.facebook.com/ParadiseEnergySolutions
www.twitter.com/paradisesolar
Contact:
Jason Hohl
jhohl@paradiseenergysolutions.com
875 Brackbill Rd
Gap, PA 17527
Ph: (717) 407-5152
Fax: (717) 407-5163
About Belden Brick
The Belden Brick Company originated from the Diebold Fire Brick Company in Canton, Ohio in 1885 by Henry S. Belden and his four associates. Today, the Belden Brick Company owns and operates seven Belden Brick plants in Sugarcreek, Ohio. Sugarcreek, OH with the capacity to produce 240 million brick annually including 20 plus sizes of brick in more than 300 colors, 13 different textures and hundreds of special shapes.
Featured Product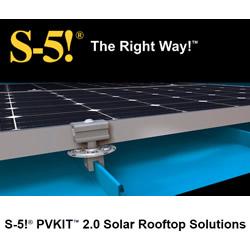 The concept of combining PV arrays with standing seam metal roofing is growing-for good reasons. Metal roofs have a life expectancy of more than 40 years. Shouldn't the mounting system last as long? With S-5! zero-penetration attachment technology and PVKIT 2.0, the solarized metal roof is the most sustainable system available -and without compromising roof warranties! PVKIT 2.0 is the also the best solution for attaching PV modules directly to any exposed fastener metal roof.