Its integrated power stack PV core enables an input DC voltage of up to 1,000 V and peak efficiencies of 98.7%
WARSTEIN-BELECKE, Germany--AEG Power Solutions (AEG PS) (FWB:3W9), a leading global manufacturer of power electronic systems and solutions for industrial power supplies and renewable energies, today launches the Protect PV.880 OD, a compact high efficiency central solar inverter for utility-scale applications on ground area installations in harsh outdoor environments.

The new 880 kVA solar inverter solution supports up to 1300 kWp. Its integrated power stack PV core enables an input DC voltage of up to 1,000 V and peak efficiencies of 98.7%. Designed for harsh outdoor applications, the new inverter supports a wide operating temperature range of -20°C to +50°C, while the light weight (1850 kg) and small dimensions (2200 x 2250 x 800 mm) raise the ease of transport, installation and service to new levels.
AEG PS' line of compact outdoor units for PV power stations supports between 500 kWp and 1300 kWp. All outdoor units comprise durable, external, weatherproof metal housings and integrated, high-efficiency, solar central inverters. The highly effective proprietary cooling system provides optimal air circulation within the inverter. The enclosure of double-walled aluminum with a stainless steel plinth meets the IP54 standard and can easily be mounted on concrete foundations. Designed for global use, the Protect PV outdoor systems fulfill all requirements in compliance with relevant national standards and guidelines.
"AEG PS new central inverter solution guarantees maximum energy yield and our intelligent software helps stabilize and support grid behavior. Furthermore, as it is prepared for grid standards around the globe, it's supporting our strategy to reach fast growing markets like India", says Bob Roos, VP Solar Strategic Business Unit of AEG Power Solutions.
The Protect PV.880 design can be integrated in the turnkey container solution TKS-C 1600, enabling a total nominal AC output of 1600 kVA and connecting to a DC generation capacity of up to 2600 kWp.
AEG PS showcases its latest product developments in central inverters, storage concepts and smart grid power solutions in booth B2. 370 at Intersolar Europe in Munich from 19 to 21 June, 2013.
About AEG Power Solutions
AEG Power Solutions (AEG PS) Group is a global provider of power electronics systems and solutions for all industrial power requirements offering one of the most comprehensive product and service portfolios in the area of power conversion and power control. Two complementary operating business segments, Renewable Energy Solutions (RES) and Energy Efficiency Solutions (EES) serve customers worldwide. The RES product and service portfolio consists of systems and solutions for solar power plants, such as solar inverters, monitoring and control systems as well as power controllers for a wide range of industrial applications such as polysilicon, energy storage, sapphire and glass. The EES product and service portfolio includes high-performance uninterruptable power supplies (UPSs), industrial chargers, and DC systems.
Thanks to its distinctive expertise bridging both AC and DC power technologies and spanning the worlds of both conventional and renewable energy, the company creates innovative solutions for smart grids.
AEG PS' global footprint includes 22 subsidiaries, offices and competence centers around the world with 1,600 employees.
AEG Power Solutions Group is the sole subsidiary of the holding company 3W Power S.A. (WKN A0Q5SX / ISIN GG00B39QCR01), based in Luxembourg. The Group is headquartered in Zwanenburg in the Netherlands. The shares of 3W Power are admitted to trading on Frankfurt Stock Exchange (ticker symbol: 3W9).
For more information, visit www.aegps.com.
Featured Product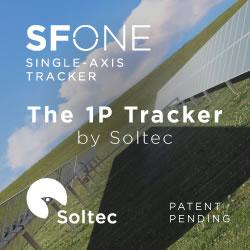 Soltec manufactures and supplies solar trackers designed and proven for extreme climate conditions, which is an ideal solution for any region's environment. Soltec's trackers are self-powered, requiring no additional PV module or grid-powered connection. Bifacial modules collect energy on both the front and rear sides, capturing reflected irradiance from the ground surface under and around the tracker and from other modules. Depending on site conditions, bifacial yield-gain can reach +30 percent.