International Energy Agency to Release 5-year Forecast for Renewable Energy at REFF-Wall Street
June 19, 2013 –The International Energy Agency (IEA) said in April that renewable energy is one of the few bright spots in an otherwise bleak assessment of overall progress toward cleaner energy, but will the renewable growth trend continue for the next five years? That is among the many questions that will be answered next week at the Renewable Energy Finance Forum-Wall Street (REFF-Wall Street) when IEA Executive Director Maria van der Hoeven releases her agency's latest five-year forecast for the global market for renewable energy.

The IEA's Medium-Term Renewable Energy Market Report 2013 assesses market trends for the renewable electricity, biofuels for transport and renewable heat sectors, identifying drivers and challenges to deployment, and making projections through 2018. Ms. Van der Hoeven will launch the report as part of her keynote address at REFF-Wall Street at 9 a.m. on Wednesday, June 26th.
"Finance is absolutely critical in the energy business, in particular for up-front capital-intensive technologies such as renewables," said Ms. Van der Hoeven. "This is why we consider the Renewable Energy Finance Forum the perfect venue for presenting this valuable report."
The report comes as short-term indicators in some regions of the globe are pointing to increased challenges in the renewables sector. Despite remaining high, global new investment in renewable energy fell in 2012. Policy uncertainties, economic challenges, incentive reductions and competition from other energy sources clouded the investment outlook for some markets.
The Medium-Term Renewable Energy Market Report 2013 analysis features in-depth renewable electricity market analysis and forecasts for a slate of countries in the OECD and non-OECD. The report also presents an outlook for renewable electricity technologies, global biofuels supply, final energy use of renewables for heat and prospects for renewable investment.
"We are honored to have Ms. van der Hoeven speak to our gathering at America's premier renewable energy finance forum, now in its 10th year in New York. Releasing this valuable report to REFF's audience of over 600 top executives in the finance world ensures that it gets to the people who can and are moving the renewable energy industry forward," said Vice Admiral Dennis McGinn, President and CEO of the American Council On Renewable Energy (ACORE) which co-hosts REFF-Wall Street along with Euromoney Energy Events.
About IEA
The IEA is an autonomous organization which works to ensure reliable, affordable and clean energy for its 28 member countries and beyond. The IEA's four main areas of focus are: energy security, economic development, environmental awareness, and engagement worldwide.
About REFF-Wall Street
REFF-Wall Street is the premier renewable energy financing event in the U.S. The event draws an especially senior audience, comprising of over 600 senior decision makers, financiers and professionals in the renewable energy finance field. To register as media, email: houston@acore.org
About ACORE
ACORE, a 501(c)(3) non-profit membership organization, is dedicated to building a secure and prosperous America with clean, renewable energy. ACORE provides a common educational platform for a wide range of interests in the renewable energy community, focusing on technology, finance and policy. We convene thought leadership forums and create energy industry partnerships to communicate the economic, security and environmental benefits of renewable energy.
About Euromoney Energy Events
Euromoney Energy Events produces high-profile events for clean energy professionals worldwide. Our diverse range of conferences address topical issues in the cleantech sector, with a focus on financial and commercial aspects, in a portfolio that ranges across Renewable Energy, Waste Management, Energy Efficiency and Carbon Finance.
Featured Product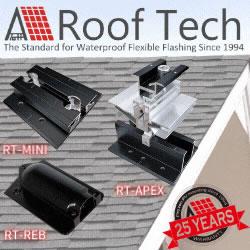 Now Roof Tech brings you the most innovative, watertight mounting systems ever developed for solar photovoltaic systems. Designed and manufactured exclusively for us by Japan's longtime leader in roofing technologies, Roof Tech products are 100% code-compliant and offer fast, simple installation and huge savings on shipping costs due to their compact, rail-less design. Learn more about our full line of versatile PV mounting solutions now available for residential installations. The next generation in rooftop solar mounting solutions."