New compact energy storage units offer market leading performance and safety solutions that are designed specifically for residential and light commercial markets.
Northville, Mich. June 19, 2013

Spider9, a clean energy solutions company founded in 2011 from the University of Michigan, announced today the launch of the Energy Vault, a new more compact version of its Mega Vault energy storage unit, designed to meet the needs of residential and light commercial energy applications. Like the larger Mega Vault systems, the Energy Vault units are integrated with Spider9's proprietary energy operating system, OSE, allowing for a 20-year lifetime, 30-percent more usable energy than competing lithium-ion based energy storage systems, and an 80-percent smaller footprint than lead-acid based battery solutions.
"Our Energy Vault unit has been specifically designed for residential and light commercial applications," said Spider9 president and chief executive officer, Glynne Townsend. "The storage unit combines a light weight, compact footprint, with unsurpassed levels of performance and safety at a competitive price point."
The Spider9 Energy Vault utilizes advanced lithium-ion batteries developed for high duty automotive, and aerospace applications. All batteries integrate with the Energy Vault's lightweight space-frame architecture to facilitate easy on-site system installation, and battery servicing with no soldering and no special tools required. The units include access to the Spider9 web based 'Spider Sense' system monitoring portal and optional features such as grid independent operation.
"The Energy Vault can be installed as part of a new energy application or, it can be retrofit to an existing system," said company chief operating officer, Dave Park. "It offers maximum usable energy. Our competitors tend to quote the maximum storage capacity systems, but are never clear on how much of their energy capacity is actually usable. Usable energy is what matters."
Spider9 started taking orders for the new Energy Vault units earlier this month. Company executives expect western U.S. and Germany will be key markets for the new products.
About Spider9
Spider9 is a Northville, MI-based Startup Company that uses their dynamic energy operating system to make renewable energy generation and storage more effective and affordable. Led by a team of former Fortune 500 executives, Spider9 was founded with the goal of decreasing the cost and increasing the viability of renewable energy. For more information on Spider9, please visit http://www.Spider9.com
Featured Product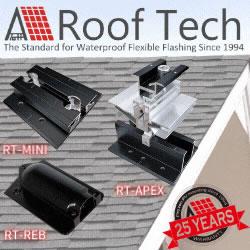 These ongoing webinars cover Roof Tech's background, product design (RT MINI and APEX), code and best practices. You will learn about a proven system that reduces installation time while keeping the integrity of the roofing system. This training will earn you one NABCEP Continuing Education Credit. The webinars are offered every Tuesday from 11 AM PDT to Noon during the months of April and May, 2020.