The ONLY International Specialized in Nuclear IT Industry
The Nuclear Information Technology (China) Forum 2013 will be scheduled on August 8th-9th in Shanghai. As the only nuclear IT event, NITF2013 has attracted an overwhelming participants from all the leading organizations. The event aims to accelerate the information technology development for global nuclear industry,

Recently, NITF2013 got an official endorsement from the FDS (Fusion Design Study / Fusion Digital Simulation) Team from Institute of Nuclear Energy Safety Technology in Chinese Academy of Sciences (INEST-FDS). And Dr. Yican WU, the director of INEST-FDS, will be one of the honorable steering committee members and chair the forum in Aug.8th afternoon.
NITF2013 also got the support from IAEA, targeted on promoting the international collaboration in nuclear industry, the head of International Nuclear Information System (INIS)——Taghrid ATIEH will participant in the forum to introduce the successful cooperation in the field of nuclear information. Meanwhile, Mr. Xinmin Xiao (the Secretary General from China Nuclear Energy Association Information Committee) has confirmed to be the chairman on Aug 8th morning and deliver a speech on "Building Digital Factory, Safe NPP and Smart Nuclear Power". With the great efforts from Mr. Xiao, the membership companies of CNEA Information Committee——CNNC, CGNPC, Huaneng Group, CPI, SNPTC, CNEC will organize a group of people to join in NITF2013 and hold a further discussion on the future China's nuclear information technology implementation.
NITF2013 is becoming the most influential nuclear IT forum in the world. If you are nuclear operators, EPC companies, design & research institutes, software or hardware vendors, NPP equipment suppliers and nuclear relevant consulting companies, you can't afford to miss this best-in-class event in 2013!
About INEST-FDS
FDS focuses on the design and development of advanced reactors, performing the basic and applied research in the development and utilization of nuclear energy, developing technologies for nuclear reactor materials, and fostering the clinical applications between nuclear science and bioengineering with emphasis on the accurate radiotherapy.
About INNCH INTERNATIONAL
INNCH INTERNATIONAL CO., LTD offers professional consulting and event management services for domestic and foreign enterprises in nuclear industry. We provide great business opportunity and the best networking platform for senior management of multinational and local companies with the growing China's nuclear market. We work to assist foreign enterprises with their expansion into China, and present their Chinese counterparts the opportunity to access overseas markets. Our aim is to become the consulting leader in China's nuclear market.
Featured Product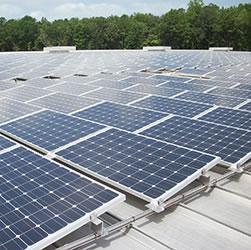 The Power Rail™ Commercial Mounting System is designed with the professional PV solar installer in mind. Both the XD/UD and LD/MD rails feature single tool assembly with the revolutionary patented RAD™ Lock-in-Place bolt for fast and secure module clamping. The high strength marine-grade aluminum rails include an integral wiring channel for securing cables and providing a professional finish.