Lineup Continues to Grow for Annual Clean Energy Summit in Las Vegas, August 13
Las Vegas — "National Clean Energy Summit 6.0: Energizing Tomorrow" is pleased to announce additional speakers and panelists at the annual summit at Mandalay Bay Resort & Casino in Las Vegas on August 13. Governors Brian Sandoval (Nevada), Martin O'Malley (Maryland) and Jennifer Granholm (Michigan) will participate in a special panel, "Clean Energy Solutions in States," where they will address how states can help improve the business environment for investing in renewable energy, clean fuels and the clean energy infrastructure. This panel will be moderated by the Clean Energy Project's Chairwoman Rose McKinney-James.

President and CEO of NV Energy Michael Yackira, president and CEO of MidAmerican Energy Holdings Company Greg Abel, and CEO of Recurrent Energy Arno Harris will take part in the "21st Century Energy Market" panel moderated by Nevada Treasurer Kate Marshall, where they will discuss measures to improve regional collaboration in electricity markets in order to facilitate clean energy development, reduce electricity prices and improve grid reliability. Newly appointed Cabinet members Secretary of the Interior Sally Jewell and Secretary of Energy Ernest Moniz are keynote speakers for the event.
The annual conference is hosted by Senate Majority Leader Harry Reid (D-NV), Center for American Progress, Clean Energy Project, MGM Resorts International and the University of Nevada, Las Vegas. Clean energy visionaries, business leaders, students and a bipartisan panel of politicians will convene this year to discuss the importance of making clean energy choices that will have a positive impact on our future. Insight from these experts will provide the tools to enlighten and empower the public to promote clean energy, strengthen our energy independence and create jobs.
WHO: "National Clean Energy Summit 6.0: Energizing Tomorrow" confirmed speakers include:
*Names in red are newly confirmed speakers
· Senator Harry Reid (D-NV), Senate Majority Leader
· John Podesta, Chair, Center for American Progress
· Secretary Ernest Moniz, Secretary of Energy
· Secretary Sally Jewell, Secretary of the Interior
· Senator Byron Dorgan, Former Senator, North Dakota and Senior Fellow at the Bipartisan Policy Center
· Senator Trent Lott, Former Senator, Mississippi and Senior Fellow at the Bipartisan Policy Center
· Senator Timothy Wirth, Former Senator, Colorado and Vice Chair of the United Nations Foundation and the Better World Fund
· Governor Jennifer Granholm, Former Governor, Michigan
· Governor Martin O'Malley, Governor, Maryland
· Governor Brian Sandoval, Governor, Nevada
· Rose McKinney-James, Chair, Clean Energy Project
· Dr. Kathryn Sullivan, Acting Under Secretary of Commerce, Oceans and Atmosphere and Acting Administrator, National Oceanic and Atmospheric Administration (NOAA)
· Patricia Mulroy, General Manager, Southern Nevada Water Authority
· Michael Peevey, President, California Public Utilities Commission
· Greg Abel, Chairman, President and CEO, MidAmerican Energy Holdings Company
· Michael Yackira, President and CEO, NV Energy
· Arno Harris, CEO, Recurrent Energy
· Kate Marshall, Treasurer, Nevada
· Phyllis Cuttino, Director of Clean Energy Program, PEW Charitable Trusts
· Matthew Nordan, Vice President, Venrock (Venture Capital Firm)
· Ethan Zindler, Head of Policy Analysis, Bloomberg New Energy Finance (BNEF)
· Chris Taylor, Executive Director, West Coast Infrastructure Exchange
· Dr. Neal Smatresk, President, University of Nevada, Las Vegas
WHEN: Tuesday, August 13, 2013
9 a.m. – 6 p.m.
WHERE: Mandalay Bay Resort & Casino
3050 S. Las Vegas Blvd.
Las Vegas, NV 89109
REGISTER: To register for general admission or as an exhibitor for Summit 6.0, read more information about the panels and panelists, or view periodic updates and notices, please visit cleanenergysummit.org.
Featured Product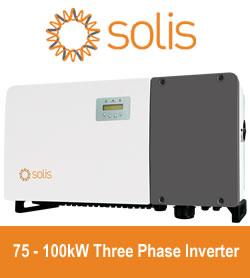 Solis75kW - 100kW series high-power string inverters are widely used in industrial and commercial rooftops. Solis's new three-phase string inverter is the first choice for industrial and commercial photovoltaics. 75-100kW three phase series string inverter have Maximum 28 strings input, support "Y" type connection in DC side. Maximum string input current 13A, support bifacial modules access.Supports anti-PID function to improve system efficiency.