New GenDrive(TM) 1900 Fuel Cell Brings Increased Productivity and Reduced Emissions to Six-Ton Forklift Trucks
LATHAM, N.Y., June 24, 2013 -- Plug Power Inc. (Nasdaq:PLUG), a leader in providing clean, reliable energy solutions, today announced the GenDrive Series 1000 product family has a new member, the GenDrive 1900. It is Plug Power's highest-power fuel cell yet and one of the largest developed for material handling applications.

The GenDrive 1900 is designed as a drop-in replacement for lead-acid batteries on six-ton capacity, four-wheel, class-one counterbalanced forklift trucks. Six-ton forklift trucks are among the most popular large-capacity forklift trucks in use.
The new fuel cell is the company's first to feature an optional second hydrogen tank to double hydrogen capacity. With both tanks installed, the fuel cell can store up to 3.4 kg of hydrogen with an energy capacity of 50 kilowatt-hours (kWhr). Capable of a constant power output of 14kW, the fuel cell delivers more than eight hours of runtime, which is 50% more than a conventional battery in this application. The GenDrive 1900 has a refill time of two minutes, maximizing the productivity of forklift trucks.
The new fuel cell is part of the GenDrive Series 1000 products targeted at sit-down counterbalanced trucks that are used in high-volume manufacturing and high-throughput warehousing and distribution operations. Other products in the family include the 1400, 1500, 1600 and 1700 for three-wheel and four-wheel counterbalanced trucks.
With this new offering in its product line, Plug Power now provides a complete solution that spans all class-one forklift trucks, making it possible for its retail and manufacturing material handling customers to standardize on hydrogen fuel cells in place of lead-acid batteries.
"This is a very important extension of the GenDrive Series 1000 product line because it means that our customers can fully commit to a hydrogen-powered forklift fleet that enhances environmental impact, eliminates the need for battery storage and provides a better return on their investment in hydrogen fueling and storage," said Andy Marsh, Plug Power president and CEO. "This is important for Plug Power too, as it expands our addressable market and cements our reputation as the leading PEM fuel cell integrator in the material handling industry."
The GenDrive 1900 runs at the same operating pressure as other Series 1000 products, which helps to simplify hydrogen infrastructure. It also features a system controller that enables the operator to monitor and communicate fuel cell stack and system performance to optimize output, provide information for planned maintenance and reduce total cost of ownership.
Availability
The new GenDrive 1900 will start customer trials in the third quarter of 2013. When released, it will be available through Plug Power's worldwide sales force.
About Plug Power Inc.
The architects of modern fuel cell technology, Plug Power is revolutionizing the industry with cost-effective power solutions that increase productivity, lower operating costs and reduce carbon footprints. Long-standing relationships with industry leaders forged the path for Plug Power's key accounts, including Walmart, Sysco, P&G and Mercedes. With more than 4,000 GenDrive units deployed to material handling customers, accumulating over 10 million hours of runtime, Plug Power manufactures tomorrow's incumbent power solutions today. Additional information about Plug Power is available at www.plugpower.com.
Featured Product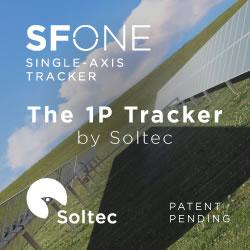 Soltec manufactures and supplies solar trackers designed and proven for extreme climate conditions, which is an ideal solution for any region's environment. Soltec's trackers are self-powered, requiring no additional PV module or grid-powered connection. Bifacial modules collect energy on both the front and rear sides, capturing reflected irradiance from the ground surface under and around the tracker and from other modules. Depending on site conditions, bifacial yield-gain can reach +30 percent.