It's been weeks since the EU-China conflict over Chinese dumping on solar panel started. Dialogue is now open between the 2 parties. They all want to avoid a war trades which can be harmful for all the involved countries' Economy.
Several weeks ago, the European Union started to investigate on Chinese solar panels dumping. This case was brought to the European Union consideration by the European organization EU ProSun, which is formed by solar industry experts. Before Chinese provided hyper competitive price on the market, the European solar panel market was mostly centered around German enterprises, particularly Solar World, the former leader on the European solar panel industry. However, Solar World suffered economical troubles when the Chinese five-year plan was established to promote the industry in China. Now, China is the leading solar panels' supplier worldwide. Beijing owns around 65% of the solar panels' market.

EU ProSun requested the EU Commission to deeper analyze into prices of Chinese's solar panels as they believed Chinese solar panels companies practice dumping on their products. With government's subsidies government, solar panels manufacturers in China are allegedly providing products at a lower price than the cost of production. Even with their high debts towards banks, Chinese producers can sell their solar panels at a cheaper price than their European competitors. More than that, European Union wants to prevent a China monopoly on solar panel industry in its territory. Nowadays, around 90% of Chinese solar panels are dedicated to oversea's markets and among them, 80% are conveyed to Europe. Furthermore, Chinese manufacturer have a 80% dominance over Europe solar panel while in 2009,it was only 63%. Since then, a great number of European competitors closed down. This conflict between EU and China brought to light tension between E.U members in favor of a tax on Chinese solar panels and those against it.
On June 4th, European Union trade commissioner, Karel de Gucht, stated that European Union would implement custom duty on solar panels from China. The special tax is fixed at 11.8% and will be raised at 47% in August. Following this announcement, Chinese authorities notified the European Union that they will look into European wines' prices as they suspect dumping from EU countries on those products. In that case, they would, just like EU with solar panels, established custom duty on European wines.
Last friday, Chinese and European authorities met in Beijing in order to talk about the dispute. At the end of this first meeting, both sides stated they were willing to cooperate in order to find a solution that will satisfy everyone. Karel de Gucht also declared that custom duty on Chinese solar panels will remain at 11.8% and not increase at 47% in August. To prove their willingness to reach an agreement, European countries are freezing their corrective process against Chinese solar panels. At the same time, some Chinese manufacturers are ready to relocate in other developing countries such as South Africa or Turkey to circumvent custom duty.
Featured Product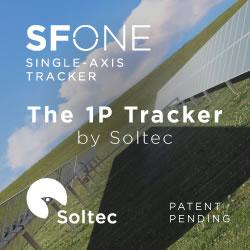 Soltec manufactures and supplies solar trackers designed and proven for extreme climate conditions, which is an ideal solution for any region's environment. Soltec's trackers are self-powered, requiring no additional PV module or grid-powered connection. Bifacial modules collect energy on both the front and rear sides, capturing reflected irradiance from the ground surface under and around the tracker and from other modules. Depending on site conditions, bifacial yield-gain can reach +30 percent.