Industry's First PLC-to-RS-485 Adapter Features Adjustable Baud Rate and Wideband Temperature Operation
SANTA CLARA, Calif. – June 25, 2013 — Asoka Corporation, a pioneer in powerline communications (PLC) hardware and services, announced today the PL7070-COM, an RS-485 serial PLCbridge adapter designed to minimize the networking challenges of connectingsolar equipment throughout a building.

The PL7070-COM is the first of its kind to support solar installations that require passing RS-485 transmit and receive signals between remotely located solar equipment. With the PL7070-COM, installers simply plug the adapter into an AC outlet nearest to the RS-485 equipment and connect a short DB-9 cable between the equipment and adapter.
"One of the challenges facing solar installers today is the need to pull serial cable between photovoltaic panels and inverters, which can be a long, difficult process," said Eric Grubel, president and CEO of Asoka. "In addition to reducing the time to complete a solar installation, we believe that the PL7070-COM results in simplified and overall lower cost installations. This will be a game changer for the solar industry."
The PL7070-COM features wide temperature operation (-20° C - +60° C) and an adjustable baud rate (selectable between 1.2, 9.6 and 19.2 kb/s) to accommodate all major brands of inverters. The only configuration required is to ensure the baud rate of the PL7070-COM matches the RS-485 equipment, which can be completed by simply pressing thebaud rate button located on the front panel of the adapter.
The adapter supports 128b AES encryption over powerline links to ensure that data and content are protected while in transit via the powerline.
The adapter has already been tested by major solar companies such as Fronius, Power-One and SMA and is available today. For more information, please visit http://www.asokatech.com/residential-solar-page.
About Asoka
Asoka is a pioneer in powerline networking (PLN) technology that enables carriers and systems integrators to provide state-of-the-art digital living services. These include home area networks, energy management services, home monitoring and solar system monitoring. Asoka products have been deployed in over one million locations worldwide and provide fast and flexible installation of high-speed networks by using existing electrical wiring as the network medium. Headquartered in Santa Clara, CA, Asoka's customers include AT&T, Comcast, Swisscom, Rogers, Motorola, FairPoint,CenturyLink and Clearwire. More information about Asoka can be found at www.asokatech.com.
Featured Product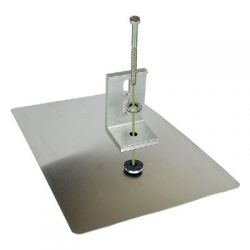 The GreenFasten™ - GF1 system utilizes the patented watertight technology EcoFasten Solar® is known for. The flashing is fit with our EPDM rubber bushing and when used with a compatible EcoFasten Solar compression bracket (milled with countersink), a watertight seal is created, which protects the integrity of the roof. Requiring just a single fastener (lag bolt or self-drilling), GreenFasten provides the fastest install in the industry and will not void roofing manufacturer's warranties. Backed by IAPMO certification, GreenFasten delivers a mounting solution for all new or existing (retrofit) composition shingle roofs, and is the most cost-effective solution available. Like all of the solar roof mount solutions in our line of products, GreenFasten is made in the USA using recycled materials.