Cutting-Edge Hybrid Solar-Thermal System Displaces Antiquated, Costly Heating from Seattle Steam Company
SEATTLE--Net Zero Impact, LLC recently completed installation of its largest hybrid solar-thermal system to date at Addison on Fourth, formerly named the "Downtowner," near Seattle's International District. Net Zero Impact will supply heat and hot water to the building's 254 apartments and studios, as well as to new retail storefronts.

The building, originally constructed as a hotel in 1911, has been renovated by Goodman Real Estate. The renovation is focused on development of a "green," economically viable, highly efficient mixed-use facility. Replacing steam-generated heat provided by Seattle Steam, Net Zero Impact's hybrid solar system – including solar-thermal tubes, high-efficiency boilers and automated system controllers – will dramatically increase the building's overall energy efficiency, even during Seattle's cool, cloudy winters. The expected savings on energy costs are estimated at $60,000 per year, nearly a two-thirds reduction. With available federal tax credits and local grants, Goodman Real Estate expects to recoup its solar investment within three years.
Sun-generated steam from 450 Net Zero Impact solar-thermal tubes reaches a temperature of 212 degrees, pre-heating water for two new boilers that deliver heat to existing radiators throughout the structure. Solar-heated water, at a temperature of approximately 120 degrees, will also be piped throughout the building for domestic use.
In addition to the rooftop solar tubes, the following equipment and renovations were part of the Net Zero Impact's project:
*Two 98%, high-efficiency domestic hot water boilers
*Automated electronic controllers to manage the entire heating system
*A complete rebuild of the condensation system for existing radiators
*Installation of hot water tanks, piping, pumps and new gas lines
*A complete exhaust system upgrade
*New temperature valves for the century-old radiators
Over the next year, the Net Zero Impact hybrid solar-thermal system will prevent 275 metric tons of carbon dioxide from entering the atmosphere, roughly the equivalent of greenhouse gases emitted by 54 cars.
"The Addison on Fourth project is the perfect combination of forward-thinking, sustainable development and a unique vision for maintaining the structure's historical characteristics and charm," said Barry Andersen, CEO, Net Zero Impact, LLC. "Addison on Fourth is a tangible example of the power of hybrid solar-thermal energy systems for meeting consumer and commercial needs while simultaneously reducing energy costs in dramatic fashion."
The solar thermal tubes, manufactured by Kingspan Solar, transform direct and diffuse sunlight—solar radiation available even on cold, cloudy or humid days—into useful heat in the form of hot water. Capturing the sun's energy in less-than-sunny environments is a critically important advantage to customers in the Pacific Northwest. Inside each Kingspan air-evacuated tube, solar radiation is collected, concentrated and transferred to an insulated manifold. Kingspan's patented technology for controlling heat in this process is credited for the system's long production life and 25-year warranty.
About Net Zero Impact LLC
Net Zero Impact LLC is expert in the design and installation of hybrid solar technologies for commercial applications in the Pacific Northwest. The company, founded in 2007, designs and deploys integrated solar systems, incorporating the patented, high-efficiency Thermomax solar-thermal tubes from industry leader Kingspan Solar. Through a comprehensive approach, including needs analysis, design and grant-process support, Net Zero Impact is making a brighter future for forward-thinking organizations and enterprises in the Pacific Northwest. www.netzeroimpact.com
Featured Product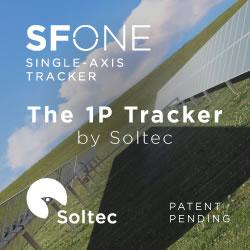 Soltec manufactures and supplies solar trackers designed and proven for extreme climate conditions, which is an ideal solution for any region's environment. Soltec's trackers are self-powered, requiring no additional PV module or grid-powered connection. Bifacial modules collect energy on both the front and rear sides, capturing reflected irradiance from the ground surface under and around the tracker and from other modules. Depending on site conditions, bifacial yield-gain can reach +30 percent.