Online class provides free smart grid curriculum related to job responsibilities in the energy sector
As conversations about responsible energy use increase, many energy industry experts have championed the use of smart grid technology as a means of delivering energy in an efficient, economical, and environmentally-sound manner. Recognizing the need for more accessible education on the smart grid, Bismarck State College National Energy Center of Excellence in partnership with the Energy Providers Coalition for Education (EPCE) developed a free, open-source course as part of the National Training & Education Resource (NTER) initiative, created with assistance from the U.S. Department of Energy.

The course, called Smart Grid Benefits, instructs learners on the advantages of smart grid technology, which is heavily reliant on the use of digital communication in the operation of utility grids. It can be found at www.nterlearning.org.
Smart Grid Benefits covers the advantages of the smart grid, including self-healing and self-optimization, energy storage, energy pricing, and voltage and reactive power management. The course also provides learners with interactive instruction regarding the smart grid through the use of animation, information graphics, and simulations.
The classes are open to the public, and encourage not only students to learn about smart grid technology in preparation for future careers, but others to educate themselves as to how they can best regulate their own everyday energy usage. Educators and organizations contribute curriculum to specific open-source courses on the NTER site, and are open to experts and instructors to add and amend material as needed
For those pursuing careers in energy or anyone with a general curiosity about the sector, EPCE resources such as the Smart Grid Benefits course are making it easier to learn about industry-related responsibilities outside a traditional classroom setting.
"EPCE was founded over 12 years ago," says Christine Carpenter, director of EPCE, "and we were early advocates of online education because we found that it best allowed adult students to balance their professional and personal lives with their education goals.
"We've watched the development of open source coursework with interest," she adds. "From the beginning, we designed our energy education to not only be available online, but to be interactive and engaging so that what our graduates learned, they could immediately apply to their work in the energy industry."
Alicia Uhde, Electric Power Technology program manager for Bismarck State College, believes that the Smart Grid Benefits course will provide a general overview of smart grid to anyone interested in learning about the impact of this new technology.
"The Smart Grid Benefits course is a great course to introduce individuals to some of the major components of current smart grid initiatives and why they benefit consumers, industry, and the environment," Uhde says. "The course is also very engaging and enjoyable as it leverages interactive content that allows the students to participate with the material. Participants will experience a similar quality and interaction as they would if they chose to pursue their education with our online degree program sponsored by EPCE, which is designed for current and future electric utility workers."
The Energy Providers Coalition for Education (EPCE) (www.epceonline.org) is a national alliance of energy providers and education institutions nationwide that delivers solutions to attract and engage the energy industry's workforce through quality online education. These programs offer interested candidates and incumbent workers technical skills as well as academic knowledge needed for industry career paths in electric utilities and nuclear power. EPCE members champion industry needs in their joint efforts to develop and sponsor online curriculum with qualified accredited high schools, colleges, and universities. The EPCE program is a signature initiative of CAEL, the Council for Adult and Experiential Learning (www.cael.org), an international non-profit organization with more than 35 years' experience in creating and managing effective learning strategies for working adults through partnerships with employers, higher education, the public sector, and labor. EPCE celebrated its ten-year anniversary in 2011.
The Bismarck State College National Energy Center of Excellence is home to many nationally-recognized energy industry degree and training programs. Students have the opportunity to complete programs on-campus or online. For more information, visit bismarckstate.edu/energy.
Featured Product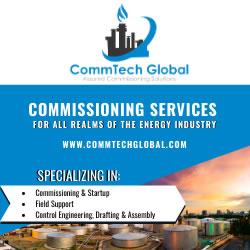 CommTech Global Solutions, LLC, provides professional and reliable commissioning services to customers in all realms of the energy industry. We blend our skills in engineering and technology with innovative business models, offering a complete range of services to assist you for a successful and in compliance operational startup. Consolidation of all our service domains gives our clients a comprehensive set of expertise and far-reaching experience on each project.