Space-Time Insight Brings Big-Data Visual Analytics to Enterprise and Operational Systems with SAP HANA® and other SAP® Solutions
SAN MATEO, Calif.,– Space‐Time Insight, the leading provider of next‐generation situational intelligence solutions, has announced that its award-winning geospatial and visual analytics software – Space-Time Insight Asset Intelligence – is now an SAP-endorsed business solution. Using Space-Time Insight Asset Intelligence together with the SAP® ERP application and SAP HANA® platform, organizations can make faster, more informed decisions utilizing data that spans enterprise and real-time operational systems. In partnership with Accenture, Hydro One, the largest electricity transmission and distribution company in Ontario, Canada, is one of the first global utilities to deploy Space-Time Insight Asset Intelligence integrated with these SAP solutions.

With Space-Time Insight's situational intelligence solutions – including Space-Time Insight Asset Intelligence – users can quickly extract rich meaning from disparate and vast sources of data at rest and in motion (such as information from environmental, enterprise, GIS, social, and operational systems) and view and analyze it in holistic, multi-dimensional visual applications across space, time and nodes in a network or grid. This is especially important for businesses such as utility, energy, transportation and logistics companies that need to constantly assess the condition, performance and reliability of their assets, as well as respond rapidly to unfolding events that impact planning, operations and delivery of their goods and services.
"For many years enterprises have been leveraging the rich set of capabilities that SAP solutions have to offer," said Rob Massoudi, senior vice president, Business Development at Space-Time Insight. "Space-Time Insight Asset Intelligence integrates the data in those solutions with many operational systems; visualizes it using sophisticated geospatial, temporal and nodal techniques; and applies real-time and predictive analytical models to help give enterprises the business-wide insight they need to be able to make fast, informed decisions under even the most extreme conditions."
Solutions endorsed by SAP AG are complementary to SAP software offerings, have been specifically integrated with SAP solutions and tested by SAP, and provide additional choices and flexibility for businesses running SAP software. SAP-endorsed business solutions are offered by SAP partners. Space-Time Insight Asset Intelligence supports SAP solutions including SAP HANA, SAP NetWeaver® Business Warehouse (BW), and SAP ERP.
"Utilities are facing challenges from aging infrastructure, a changing power mix, the regulatory environment, severe weather events and more," said Henry Bailey, global vice president, Utilities Industry Business Unit, SAP. "Space-Time Insight Asset Intelligence integrated with SAP HANA and SAP ERP extends our customers' investments in SAP solutions, and is expected to help prepare them to overcome these challenges and arm them with the information they need to help make timely decisions in the face of massive volumes of data across many different business and operational systems."
Hydro One has already begun to realize financial and operational benefits from Space-Time Insight Asset Intelligence software and SAP products, using the technologies to help improve grid reliability, optimize planning and maintenance processes, and help reduce exposure to liability across its transmission and distribution infrastructure. The integrated solutions, which are expected to generate millions of dollars in savings for Hydro One, have been implemented in partnership with Accenture, a leading technology consulting and systems integration provider.
"The integration of Space-Time Insight Asset Intelligence with SAP solutions is a significant development in the ability to analyze and correlate data across enterprise, operational and big data systems," said Jack Azagury, global managing director of Accenture Smart Grid Services. "With this integration in place, we can now deliver solutions designed to enable enterprises to make more timely, accurate and meaningful decisions than ever before."
About Space-Time Insight
Space-Time Insight transforms vast quantities of disparate information into intuitive visual displays that businesses can use to make informed real-time decisions. From traditional transmission, communications and transportation networks to Smart Grids and Cities, our next-generation situational intelligence solution is making critical infrastructure smarter, safer and more reliable. With Space-Time Insight, enterprises can visualize and analyze their resources across location and time, rapidly respond to disruptions in service, and lower risk while increasing customer satisfaction and profitability. Major organizations around the world rely on our high performance software to gain actionable insights into their businesses and make real-time operational decisions. In addition to being a partner of SAP, Space-Time Insight works with a number of other vendors including Accenture, EMC, Esri, Google, IBM, OSIsoft, and UST Global. Space-Time Insight is privately held and based in San Mateo, Calif. For more information, visit http://www.spacetimeinsight.com.
Featured Product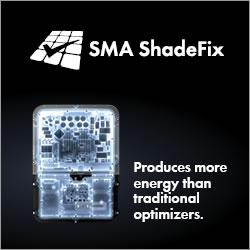 A recent university study showed SMA ShadeFix optimization produces more energy than traditional optimizers. It also utilizes far fewer components, reducing the need for costly service visits. Systems with ShadeFix optimization and SunSpec certified shutdown devices are the ideal solution for residential and commercial PV systems. Visit SMA's website to learn more and download the whitepaper.