Final tank tests conducted at the Maritime Research Institute Netherlands (MARIN) as preparation for a full scale GICON® SOF pilot plant installation exceed expectations
Rostock / Dresden (Germany), June 24th, 2013

The GICON® SOF floating offshore foundation is an exceptional innovation and provides new opportunities for offshore wind park development. Final wind and wave tank tests were conducted at the Maritime Research Institute Netherlands (MARIN) from June 17th to June 24th, 2013, to confirm the final design prior to construction of a full-scale prototype which is planned for deployment in the German Baltic Sea during 2014.
The experimental tank tests results confirmed usability and operational capabilities as expected. The system showed high stability levels in line with prior simulations and calculations. The tests confirmed the structure's low acceleration levels which are comparable to conventional fixed offshore foundations. This high stability also represents a significant difference compared to other floating offshore foundations. The measured performance results confirm the viability of the design and are another major milestone for the deployment of a full-scale prototype in 2014.
The GICON® SOF floating offshore foundation is an innovative technology with pivotal advantages compared to conventional offshore foundations. The GICON® SOF is deployable in water depths from 20 to 700 meters. Another key advantage is the ability to tow the SOF with turbine to the deployment site where it can be installed without special installation jack-up vessels and thus nearly weather independent. Compared to other floating foundation technologies, the GICON® SOF is the only solution with stability comparable to conventional offshore foundations; there is no pitch and toss which would create additional demands on the turbine.
Market Background:
Offshore wind farms are one of the largest market opportunities ever seen. But the sector also requires innovative technology solutions to address the various challenges.
Europe's ambitious climate and energy targets are key drivers behind renewable energy expansion. As early as 2020, one third of Europe's power requirements should be generated from renewable energy. Giant offshore wind parks are being developed along the coasts to produce tremendous amounts of green power. The offshore wind power sector is seen as a major renewable energy growth market. The latest expert studies are estimating that by 2020, Europe's operating offshore wind power generation capacity will be 40 GW and global offshore wind investment will reach Euro 130 billion. However, the industry faces major challenges: wind parks are increasing in size as well as distance from shore and are increasingly being built in deeper water. Conventional foundations such as monopiles, gravity foundations, tripods and jackets are applicable for water depths up to 50 meters; sites with deeper water require different solutions. The need to substantially reduce construction and operating costs applies to all projects in all water depths.
About GICON®
GICON® is an independent consulting and engineering company, operating in Germany as well as internationally. 300 full time employees and 150 contracted experts offer services to global clients in numerous countries in line with the respective national standards. Branches throughout Germany are operating close to the German customers; GICON also has offices in ca. 10 different countries. The interdisciplinary and experienced team provides comprehensive and state-of-the-art consulting and planning services for a large variety of industry sectors.
GICON is also heavily engaged in R&D in co-operation with many domestic and international research institutions. This ensures a constant flow of innovations available to clients as well as actively impacting the state of technology. Currently the company is involved in ca. 35 R&D projects, most of them in co-operation with ca. 30 domestic and international universities and research institutions.
Further information is available at www.gicon.com
Featured Product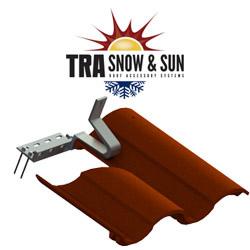 You haven't installed a tile mount that is easier to install than the Solar Tile Mount manufactured by TRA Snow and Sun. Solar Tile Mount is used on all tile roof profiles: flat, mid, and high. It is made in the USA of aluminum alloy for strength and excellent corrosion resistance. Solar Tile Mount is built to allow more ease in installation with more rise from the tile surface to the rail for better air flow below panels. The adjustable base is longer than most allowing attachment 6" to the left or right to have the bracket in the base of the pan of the tile and still fasten to the rafter. Solar Tile Mount is adjustable for counter batten systems from ¾" to 3". The horizontal rail is directly above base fasteners giving greater uplift resistance than any other system. For superior waterproofing apply TRA Snow and Sun's butyl backed VersaFlash aluminum flashing. No tile flashing is needed on top of the tile for greater labor and material cost savings.