WATT's new all aluminum collector offers same high quality as WATT's other collectors at a lower price.
WATT-U
SA has released its newest Solar Thermal Collector, the 2251S. WATT-USA's first all-aluminum solar thermal panel, the 2251S is designed to offer high performance at a lower price. As with all Solar Thermal products from WATT-USA the 2251S is constructed to the highest quality standards. Features include BlueTec ETA Plus absorber, laser welded collector piping, clear solar glass, and aluminum tray construction produced without seams, rivets or fasteners. The attractive 2251S comes in an aluminum or dark grey powder coat finish and is backed by WATT's 10 year warranty. Also new this year all WATT collectors have been redesigned to work with WATT's no-tool, leak free connections, and new collector racking. Watt-USA is looking for distributers and can be reached at 331-222-WATT (9288) or www.watt-usa.com for more information.
Featured Product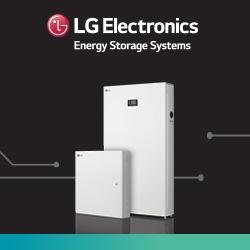 LG Solar is transforming today's solar landscape, offering precision-manufactured and high-efficiency solar panels for homeowners who demand high performance, reliability and consistently strong energy yield from a brand they can trust. LG modules feature outstanding durability, appealing aesthetics and high-efficiency technology, backed by a limited 25-year product, performance and labor (up to $450) warranty. Homeowners who purchase LG Solar modules know they're protected by a diversified global brand.