CEO Paul Nahi to host breakfast media briefing on Tuesday, July 9
Intersolar North America 2013
SAN FRANCISCO--Enphase Energy, Inc. (NASDAQ: ENPH) will hold a media briefing during Intersolar North America on Tuesday, July 9, in San Francisco. Paul Nahi, CEO of Enphase Energy, will introduce the 4th Generation Enphase System. Media and analysts are welcome to attend a live presentation.
Date: Tuesday, July 9, 2013
Time: 7:30 a.m. PDT Breakfast and Registration
8:00 a.m. PDT Presentation
Venue: Four Seasons Hotel
Veranda Ballroom A
757 Market Street
San Francisco
Registration Required:
Send email to pr@enphaseenergy.com
The presentation will also be available via live webcast on the company's investor relations website at http://investor.enphase.com/events.cfm.
Visit Enphase Energy at Intersolar North America (Soligent Booth #7731 and CED Booth #7209):
Join Enphase at Intersolar North America at Joint Forces for Solar's 11th PV Briefing & Networking Forum USA on July 10 at the Innovation Exchange Area, Booth #9659. Enphase will also host customers and partners downtown San Francisco at Enphase Microinverter Training, Tweetup with Solar Power World, Enphase Wine Country Lounge at the Solar Summerfest Party and Enphase and Soligent Networking Party. For more information about where to meet Enphase visit info.enphase.com/Intersolar2013.
About Enphase Energy, Inc.
Enphase Energy delivers microinverter technology for the solar industry that increases energy production, simplifies design and installation, improves system uptime and reliability, reduces fire safety risk and provides a platform for intelligent energy management. Our semiconductor-based microinverter system converts energy at the individual solar module level and brings a systems-based, high technology approach to solar energy generation. Connect with Enphase on Facebook and follow us on Twitter. www.enphase.com
Featured Product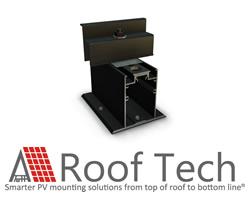 The most compact versatile rail-less PV mounting system under the sun. Instead of placing solar panels on top of long rails, simply attach E Mount AIR to rafters or the roof decking. Once panels are fastened to the roof, the system array is electrically bonded. The result is a visually seamless PV installation that stands the test of time. - Truly "One With The Roof". - PE stamped cert. letters available, UL 2703 Classified, ASTM 2140 fully waterproof. The one and only with integrated flexible flashing certified by the ICC! All the best quality. Only from Roof Tech