Presentation of new products at booth 9523, July 9 to 11, 2013
*New open terrain racking system Sigma I XL combines single-post simplicity with robust rail technology

*Introduction of new single-axis tracker Epsilon designed specifically for the North American market
*Launch of the cost-effective solar canopy product line Omega CI/CII
West Sacramento (CA) – July 1, 2013
At the Intersolar North America 2013 trade show in San Francisco, the developer and manufacturer of solar racking systems Mounting Systems, Inc. will introduce three new mounting structure products for the photovoltaic market: the Sigma I XL for large open terrain projects, the single-axis tracker Epsilon and a solar canopy product line Omega CI/CII. With these new racking structures, Mounting Systems offers tailor-made and extremely robust solutions for residential carports, commercial and free-field photovoltaic power plants of all sizes.
According to Kasim Ersoy, Managing Director of Mounting Systems, Inc. in West Sacramento, CA is "the introduction of the three significant new racking systems a major step for Mounting Systems, Inc. and shows our dedication to the North American photovoltaic market and our customers. These new products are each state-of-the-art in their respective segments and we're quite proud that we will be shipping them throughout the Americas, Asia and the Pacific rim from our own production facilities here in the U.S. and from our partners in Canada."
The Sigma I XL combines the advantages of the open terrain racking systems within the current product portfolio of the Californian company. As a derivative of the well-established Sigma I and Sigma II racking systems, the Sigma I XL is a single-post, driven pile solar substructure designed for commercial to utility-scale open terrain photovoltaic systems. Employing Mounting Systems proprietary, high-strength/low-mass Pi-rail, the Sigma I XL architecture is readily set up and can be configured for both portrait and landscape module orientation in tilt angles up to 35 degrees. Its single-pile design, high degree of preassembly and low parts count contribute to fast installation and low labor-hour requirements. The Sigma I XL is available for immediate delivery.
The new single-axis tracker Epsilon, a device that orientates solar panels towards the sun, marks Mounting Systems' entry into the solar tracker field. Designed for installation in sections of 448 modules, the system is well suited to large commercial and utility-scale solar projects. The single-axis tracker has been expressly designed to stand up to real-world North American environmental conditions and will continue to track in conditions where other systems normally stow. The tracker's state-of-the-art controls and highly engineered drive system provides reliable positioning as well as selectable back-tracking and self-cleaning. The Epsilon will be available in late 2013.
The new solar canopy Omega CI/II offers Mounting Systems' customers an attractive, cost-effective shade solution. The product range includes standard and watertight versions to provide both shade and protection from precipitation.
About Mounting Systems
With 20 years of expertise in the market, Mounting Systems GmbH is one of the foremost international developer and producers of racking systems for photovoltaic and solar thermal facilities. In January 2011, Mounting Systems, Inc. was established in West Sacramento, California as a manufacturer of racking systems and components for the U.S. and Canadian market. Mounting Systems, Inc. is ISO 9001 certified and in 2011, was honored with the "Patriotic Employer" award.
Mounting Systems GmbH, the parent company of Mounting Systems, Inc. was established in 1993 in Dahlewitz/Berlin. In September 2008, Mounting Systems GmbH began operating as an independent company and has been selling its products in the market ever since. Today, the racking systems, produced in Brandenburg, Germany and West Sacramento, USA, are delivered to customers around the world. In 2010, Mounting Systems opened a representative office in Lyon, France. An additional representative office has been available to customers in Milton Keynes, Great Britain, since March 2012. Approximately 250 employees currently work for Mounting Systems worldwide. Together, Mounting Systems, Inc. and Mounting Systems GmbH have deployed nearly 3 GW of PV racking structures.
Featured Product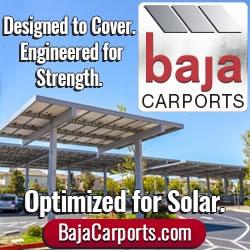 Baja Carports offers an extensive solar support system product line customized to customers' site specifications by in-house engineers, meeting their parking lot coverage, plus optimal PV production needs. Baja's Full Cantilever Tee is often paired with its Semi and Full Cantilever carports to meet live/loads up to 60psf and wind speeds to 160mph. All Baja products are pre-fabricated, bolted connections, pre-galvanized structural steel for fast on-site installation and project aesthetic requirements."