A new agreement between SMA and PROINSO strengthens the collaboration begun years ago and enables PROINSO to deliver residential and commercial inverters, and SMA's hybrid systems in USA.
1 July 2013. PROINSO USA and multinational company SMA have cemented their strategic partnership by signing an agreement whereby PROINSO becomes a qualified authorised dealer of SMA products in the American solar PV market. With the new agreement, PROINSO retains its place among the companies chosen to be SMA authorised dealers in USA within the latter's new distribution model, envisaging fewer official sellers. SMA is a global leader in the development, manufacture and marketing of solar PV inverters.

Although PROINSO and SMA have been working together since 2007, the former being an international SMA dealer, the new agreement places PROINSO among the leading SMA dealers worldwide, delivering both residential and commercial products to installers and customers around the world.
Since they started working together, PROINSO has delivered 818MW in inverters worldwide, especially in Europe and, for the past three years in Asia. In fact, PROINSO and SMA are strategic partners in India, an alliance that is now bearing fruit.
'We're very satisfied with this agreement, a recognition by SMA of PROINSO's quality service. Our alignment with SMA continues to grow and centres around a shared approach of partnership-based relationships including supplier, funder, installer and through to the end client.Being a member of the Authorised Distributors will help us strengthen our presence in the American solar PV market, where we've been operating for years, as well as in Canada and Latin America,' they said at PROINSO USA.
In USA, PROINSO has a long-established office in Sacramento, California, and 374 qualified installers who are members of its International Network, with 2,383 members around the world to date.
SMA sources pointed out that the new distribution model is meant to offer the best SMA products and services through a smaller number of leading dealers. The new distribution policy, they believe, will improve product availability, provide a wider range of services and stronger support, and ensure better access to technical and professional resources offered through carefully selected distribution channels.
INTERSOLAR NORTH AMERICA
PROINSO is attending a new edition of Intersolar North America (Booth 7115), to be held in San Francisco from 9 to 11 July, introducing SMA's new products. It is one of the most important trade shows in USA, drawing an expected 20,000 visitors.
ABOUT PROINSO www.proinso.net
An OPDE Group subsidiary, PROINSO specialises in the supply of PV modules, solar kits, inverters, structures and solar trackers, solar solutions for urban applications in public areas, vehicle recharging stations, self-consumption installations, stand-alone PV power systems and monitoring systems.
With international markets accounting for 88% sales, PROINSO has offices in Spain, Germany, Greece, Italy, USA, Great Britain, Canada, China, Brazil, Australia, Japan, South Africa and India. Recently, the company opened a new branch in Mexico.//
Featured Product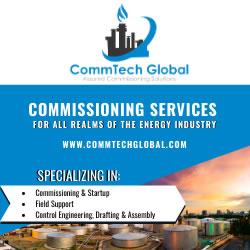 CommTech Global Solutions, LLC, provides professional and reliable commissioning services to customers in all realms of the energy industry. We blend our skills in engineering and technology with innovative business models, offering a complete range of services to assist you for a successful and in compliance operational startup. Consolidation of all our service domains gives our clients a comprehensive set of expertise and far-reaching experience on each project.