This international energy storage event will unite technology providers, integrators, and customers to build a cleaner, more efficient electric power system.
Industry experts will convene to discuss how energy storage solutions are transforming the electric power system.

Commercial applications and innovative new energy storage solutions and market developments will be the focus of the third annual "Energy Storage: International Summit for the Storage of Renewable Energies 2014" (Energy Storage 2014), a conference and exposition set for March 25 -27, 2014 in Düsseldorf, Germany. This unique annual event, organized jointly by Solarpraxis and Messe Düsseldorf will highlight marketable applications of energy storage, with a focus on the role of energy storage in the electric power sector, including renewable energy integration. Once again, Professor Eicke R. Weber, speaker for the Fraunhofer Energy Alliance and director of the Fraunhofer Institute for Solar Energy Systems in Freiburg, will assume chairmanship of the Program Committee of the conference.
Leaders and innovators from across industries, government, and research are invited to Energy Storage 2014 to share ideas and build the global energy storage market. Programming will include presentations from industry leaders and policy makers, as well as successful energy storage case studies featuring practical lessons and key success factors. On-site workshops will deliver cutting edge insight into energy storage markets and applications. The exposition will provide an ideal opportunity to educate a broad stakeholder group about new energy storage developments, innovative products, and business models - while networking with targeted decision-makers across many applications of grid connected energy storage.
Energy Storage 2014 builds on a successful track record – Energy Storage 2012 and 2013. With more than 530 participants and 45 exhibitors from 33 countries, Energy Storage 2013 was widely recognized as one of the most important meetings in the European energy storage industry thus far. Many key decision-makers, including Germany's Federal Minister of the Environment, Peter Altmaier, attended the event. Programming addressed many aspects of storage, and two workshops - the Energy Storage Production Technology Forum and the User-Workshop "Technology & Project Implementation Practices" - rounded off the conference. At the trade fair, 45 exhibitors offered a diverse outlook on the implementation of new concepts, presenting innovative new products and applications.
The Düsseldorf Energy Storage Conference and Expo concept has been launched in several other key energy storage markets globally, with local partners, under Messe Dusseldorf's "Energy Storage World" program. This is the only global network for energy storage deal making, education and networking. A groundbreaking Energy Storage Preview took place from May 8 -11, 2013 as part of the China International Technology Fair in Shanghai, expanding the Chinese market. The inaugural Energy Storage North America (ESNA) event will take place in San Jose, California from September 10 - 12, 2013 (www.esnaexpo.com); and Energy Storage India (ESI) will premiere from December 4 - 6, 2013 in Mumbai (www.esiexpo.in).
Registration as Sponsor/Exhibitor for Energy Storage 2014 is open at www.energy-storage-online.com.
For further information on visiting or exhibiting at Energy Storage 2014 or any other energy storage conference and trade fair in the Messe Düsseldorf worldwide program, contact Messe Düsseldorf North America, 150 North Michigan Avenue, Suite 2920, Chicago, IL 60601. Telephone: (312) 781-5180; Fax: (312) 781-5188; E-mail: info@mdna.com; Visit our website www.worldenergystorage.com. Subscribe to our blog at http://blog.mdna.com; Follow us on twitter at http://twitter.com/EnergyStorageNA
For hotel and travel information, contact TTI Travel, Inc. at (866) 674-3476; Fax: (212) 674-3477; E-mail: info@ttitravel.net; www.traveltradeint.com
Featured Product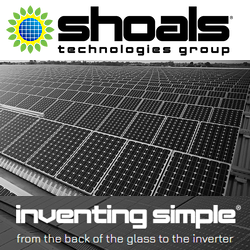 Inventing Simple® isn't just a slogan to us, it's a way of life. Using simple plug-and-play ideology, we revolutionized solar installations in 2003 with our Interconnect Systemâ"¢. Our harnessing system is now the gold standard EPC's use around the world. By using simple ideas, we are making solar energy a more affordable and clean power source for future generations.