Will produce electricity for over 55,000 households -----Estimated reduction in emissions - 130.000 tons of CO2 per year.
Mechelen, July 3rd, 2013: Avantha Group Company CG has been awarded a contract worth € 3.5Mn for the design, engineering, supply, installation & commissioning of a "WINDSUB" (wind farm substation) at the 75 MW Seine Rive Gauche Nord wind farm in France, located in the Aube department on the left bank of the river. CG will also be responsible for upgrading/building the overall electrical system.

The project scope includes all electrical, mechanical and civil engineering works, supply of two 45 MVA step-up power transformers, medium voltage and high voltage Air Insulated Switchgear (AIS), Substation Automation System (SAS), buildings and ancillaries.
The substation will help to integrate wind energy and boost power supplies to meet the growing residential demand besides reinforcing the transmission grid and improving reliability, efficiency and power quality. The total 150GWh of installed capacity will produce electricity for over 55,000 households with an estimated reduction in emissions of 130.000 tons of CO2 per year.
The project is scheduled for completion by mid 2014. Substations include equipments that protect and control the flow of electric power, transform voltage levels and facilitate the safe and efficient transmission and distribution of electricity in the grid.
CG was successful against established industry competition in securing this second reference project in the French renewable sector after the 225kV wind substation commissioned in 2011 for VALECO's wind farm "Les monts de Lacaune".
Commenting on this win, Avantha Group Company CG's CEO & Managing Director, Mr. Laurent Demortier said: "This is yet another proud moment for us. We thank Nordex and H2air for awarding CG the contract. This win demonstrates CG's local project management strengths, and on and offshore track record besides our cost-efficient approach in offering turnkey "design and build" grid infrastructure solutions. The contract is recognition of our offerings and expertise in the renewable energy sector and our commitment to support France's renewal goal and the growing regional electricity needs".
About Avantha Group Company CG
Avantha Group Company CG is a global pioneering leader in the management and application of electrical energy. With more than 15,000 employees across its operations in around 85 countries, CG provides electrical products, systems and services for utilities, power generation, industries, and consumers. The company is organized into four business groups: Power, Industrial, Automation and Consumer. CG clocks US$ 2.3 billion in revenues from product lines that cover the entire value chain of engineering offerings.
For more information on CG, please visit: www.cgglobal.com.
About Avantha
The US$4bn Avantha Group is one of India's leading business conglomerates. Its successful entities include BILT, Crompton Greaves, The Global Green Company, Avantha Power & Infrastructure, Solaris ChemTech Industries, Biltech Building Elements, Salient Business Solutions and Avantha Technologies. With a global footprint, the Group operates in 90 countries with more than 25,000 employees worldwide. The Group has business interests in diverse areas including power transmission and distribution equipment and services, paper and pulp, energy and infrastructure, food processing, farm forestry, insurance, chemicals, IT and ITES. Led by Gautam Thapar, Avantha demonstrates strong leadership globally and emerges as a focused corporate, leveraging its knowledge, leadership and operations, adding lasting value for its stakeholders and investors.
For more information on Avantha, please visit www.avanthagroup.com.
Featured Product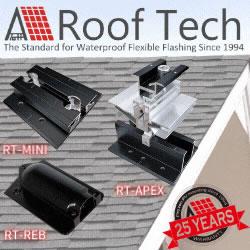 These ongoing webinars cover Roof Tech's background, product design (RT MINI and APEX), code and best practices. You will learn about a proven system that reduces installation time while keeping the integrity of the roofing system. This training will earn you one NABCEP Continuing Education Credit. The webinars are offered every Tuesday from 11 AM PDT to Noon during the months of April and May, 2020.