Paul Clark, managing director of one of the UK's leading biomass technology experts, is to speak at a Renewable Energy Association (REA) seminar on the Government's cash support for the technology.
One of the UK's leading biomass experts is to speak at a Renewable Energy Association (REA) seminar on the Government's cash support for the technology.

Paul Clark, Managing Director of biomass technology experts Rural Energy, is widely respected throughout the industry for his knowledge and passion for renewable energy.
His key areas of expertise include specialist biomass combustion and controls, biomass fuel transfer design and building services design.
The event, focusing on the Renewable Heat Incentive (RHI), will take place on July 15 at Burges Salmon in New Street Square, London, and is open to members and non-members of the REA.
Rural Energy, a Myriad CEG company, is based in the East Midlands and is one of the UK's most experienced biomass installers.
Paul, who has more than ten years' experience in biomass, is one of a number of top speakers at the seminar, which will also include Katy Read of energy watchdog Ofgem.
It will deliver the basics of RHI along with practical guidance on getting accredited – and how to avoid common mistakes.
Paul and other speakers from the industry will take participants through their real world experiences of the scheme – and look forward to the likely changes and developments over the next 12 months.
The REA says RHI has "had a slow start" but is delivering for one technology – biomass boilers.
It adds that 95% of heat generated to date comes from biomass, with boilers below 1MWth providing three quarters of that figure.
Paul said: "I am looking forward to taking part in what promises to be a lively and very informative event, focusing on the growing benefits that biomass technology can bring.
"My aim is to make the technology easy for people to understand, highlight why the choice of the right boiler and system is so crucial and share thoughts about this growing form of renewable energy.
"This is a great opportunity to share information about biomass technology and to look at the benefits that the RHI can bring to companies and organisations as they look to meet their energy needs."
Specialising in systems for every kind of application, the Rural Energy team offers unrivalled technological expertise and customer service.
Its clients include local authorities, health providers, education authorities and the National Trust.
To register for the REA seminar go to www.r-e-a.net/events/rhi-biomass-seminar
Featured Product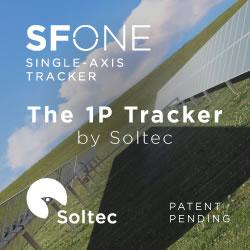 Soltec manufactures and supplies solar trackers designed and proven for extreme climate conditions, which is an ideal solution for any region's environment. Soltec's trackers are self-powered, requiring no additional PV module or grid-powered connection. Bifacial modules collect energy on both the front and rear sides, capturing reflected irradiance from the ground surface under and around the tracker and from other modules. Depending on site conditions, bifacial yield-gain can reach +30 percent.