SnapNrack will showcase award-nominated product at Intersolar North America 2013, booth #9435
SAN FRANCISCO, July 8, 2013 -- SnapNrack, a leading manufacturer of solar panel racking systems and a subsidiary of Mainstream Energy Corporation, today announced that its project has been selected as a finalist by Intersolar North America 2013 in the "Solar Projects in North America" category. Project developer O2 Energies and national solar installer REC Solar installed a SnapNrack solar racking system as part of the Progress Solar II project in North Carolina. The Intersolar Awards are presented each year for innovation in the international solar industry.

SnapNrack will be showcasing its roof- and ground-mounted racking products at this year's Intersolar North America Conference and Exhibition, booth #9435, in the Moscone West Convention Center. The product team will be present to answer technology questions and help developers and installers discover how to best utilize SnapNrack products. SnapNrack will also host a raffle at the booth each day for a complimentary residential racking system (under 10 kilowatts), along with an expert-supported install.
SnapNrack's ground-mounted racking solution supported an easy and low-cost installation process for the Progress Solar II project, a solar farm located in Fairmont, North Carolina. The North Carolina array will produce more than 12,500 megawatt-hours of electricity per year, sufficient to meet the needs of more than 1,200 homes and create work for more than 100 people. Project developer O2 Energies selected SnapNrack's Series 350 mounting system, a galvanized steel mounting structure, which enabled the project to be built at a fraction of the cost and effort of traditional aluminum racking systems.
Mainstream Energy CEO, Paul Winnowski, will join SnapNrack's Director of Products, Chris Oestreich, to provide an overview of the Progress Solar II SnapNrack system at Intersolar North America's Innovation Exchange on July 9 at 1:30pm.
About SnapNrack
SnapNrack, a subsidiary of Mainstream Energy Corporation, is a leading manufacturer of solar panel racking systems, with more than 100 megawatts deployed across the U.S. SnapNrack offers a full suite of PV mounting systems for residential and commercial customers, offering fast and elegant solutions for any roof or ground project. For more, visit SnapNrack.com or call 805.540.6999.
Featured Product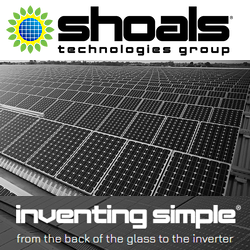 Inventing Simple® isn't just a slogan to us, it's a way of life. Using simple plug-and-play ideology, we revolutionized solar installations in 2003 with our Interconnect System™. Our harnessing system is now the gold standard EPC's use around the world. By using simple ideas, we are making solar energy a more affordable and clean power source for future generations.