The high-risk high-reward spot market in Chile is gaining ground as a viable development opportunity for developers with high performance technology, good market intelligence and strong financial statements.
However, as Saferay and SunEdison know, a PPA is not crucial for solar development. SunEdison is is currently undergoing the approval process from the IFC for a $38 million dollar loan for a 50MW plant, to be connected to the central grid.
If successful, SunEdison would not be the first company to sell on the sport market, Selray- a joint venture of international developer Seltec and Saferay a Chilean engineering and construction company already have a 1.4MW plant operating and selling which was self-financed and is now selling to the spot market.
What makes the spot market attractive is that electricity prices are high in Chile and variable across the two grids most attractive to solar; the central and northern grids. With prices for grid parity fluctuating between 80$/MWh and 120$/MWh, solar can reach grid parity, and electricity prices are only forecast to increase due to the growing demand and the lack of supply.
Nevertheless, the future of Chile's energy supply is unclear with several options proposed by politicians and ministers. Solar cannot fill the whole gap for energy demand and the interconnection of the central with the northern grids, or the interconnection of the northern grid with Argentina could both drive electricity costs down. For spot market plants, the risk of course is that with no fixed customer solar is at risk of selling at a loss. Fundación Chile, an organisation responsible for stimulating the market for renewables in Chile are undertaking modelling exercises to ascertain the impact of different energy scenarios on solar energy pricing and the growth of the industry.
The costs of developing in Chile are also relevant. Whilst construction and labour costs may be cheaper, the lack of supply chain in the region incurs considerable transportation costs. Furthermore, as one of the first-movers in the space, SunEdison needs to work carefully to make sure the plant is optimized and performs well, with few lessons to learn from others. To get spot market financing developers may need multiple other revenue streams in order to demonstrate their solvency. For one of the biggest developers in the world, this track record and positive balance sheet is already established.
At PV Insider LATAM (10-11 September, Santiago, Chile) Luis Sabaté, Director of Operations for EMEA, North Asia and Latin America at SunEdison will be sharing how companies can reduce their costs of development even in a new market. Luis will be alongside over 25 expert speakers including Nicola Borregaard Strabucchi, Director of Energy and Climate Chance at Fundación Chile who will present the organisation's findings on how several different future energy scenarios in Chile will affect the solar industry and its quest for grid parity. No other conference will help PV companies understand the future growth of the electricity market, and how to convert the opportunity into operating plants.
Take a look at all the developers with projects under construction here: www.pv-insider.com/chile2013
Featured Product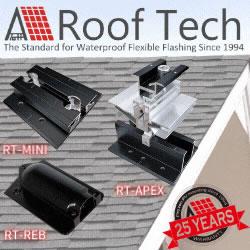 These ongoing webinars cover Roof Tech's background, product design (RT MINI and APEX), code and best practices. You will learn about a proven system that reduces installation time while keeping the integrity of the roofing system. This training will earn you one NABCEP Continuing Education Credit. The webinars are offered every Tuesday from 11 AM PDT to Noon during the months of April and May, 2020.