New Firm to Focus on Providing Growth, Capital to Lower-Middle Market Energy Companies
RICHMOND, Va. – Ewing Bemiss & Co., an investment banking firm to middle-market companies today announces the creation of Turning Basin Capital, a private-equity firm focused on providing growth or buyout capital to lower-middle market companies found in the energy sector.

Turning Basin Capital plans to provide growth and buyout capital to companies that often are overlooked by larger private equity funds. Targets include companies that provide goods or services to the energy sector and are beneficiaries of macro themes affecting the larger energy market: energy independence, global warming concerns, resource scarcity, emergence of technologies and regulatory changes.
"We are looking to fill a void in the lower-middle market by investing in and partnering with firms that are poised for growth," said Henry Berling, Managing Director of Ewing Bemiss. "Over the past 20 years, Ewing Bemiss has built a splendid reputation for assisting our clients with sales, mergers, acquisitions and financing. We're excited to begin building another strong reputation with our new venture Turning Basin Capital."
The new firm will be led by Mark Murray, who spent 11 years at Dominion Resources where he was responsible for strategic venture investments and business development for the alternative energy group. Murray, an attorney and CPA, previously held a variety of roles in Dominion's law department, providing strategic advice and business development for the company's natural gas transmission and storage business. Earlier in his career, Murray practiced corporate law at Troutman Sanders and accounting at Arthur Andersen.
"Mark's experience in alternative energy investing, energy-related mergers and acquisitions and regulatory affairs is a perfect complement to the strong team already in place at Ewing Bemiss," Berling said.
About Turning Basin Capital: Turning Basin Capital is a private equity firm focused on providing growth or buyout capital to lower middle market companies conducting business in rapidly changing energy sector. The principals of Turning Basin Capital have over 50 years of collective experience in the energy sector, making it one of the most experienced energy investors with a focus on the lower middle market. For more information on Turning Basin Capital please visit www.turningbasin.com.
About Ewing Bemiss & Co.: Ewing Bemiss & Co., with offices in Richmond, Virginia and New York, is a leading middle market investment banking firm with a focus on the energy sector. The firm is a valued advisor to leading developers of renewable and distributed energy projects in the U.S. and abroad and to service providers and product manufacturers focused on the oil and gas and electric power generation markets. For more information about Ewing Bemiss & Co., please visit www.ewingbemiss.com.
Featured Product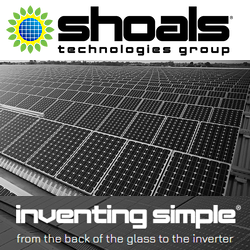 Inventing Simple® isn't just a slogan to us, it's a way of life. Using simple plug-and-play ideology, we revolutionized solar installations in 2003 with our Interconnect System™. Our harnessing system is now the gold standard EPC's use around the world. By using simple ideas, we are making solar energy a more affordable and clean power source for future generations.