PROINSO has recently launched the 2013-2014 edition of its 438-page catalogue, containing more than 400 technical descriptions of products from 30 leading brands in the solar PV industry. It also has information on on-grid and off-grid configuration designs, installation sizing, international markets and the latest applications in the solar PV power industry, among other sections.
July 09, 2013

PROINSO, a leader in the distribution of solar PV products worldwide, has launched the 2nd edition of the PROINSO SOLAR CATALOGUE (2013-2014), an international reference with updated information for installers and companies in the global solar PV industry. The catalogue is now available on the website http://www.proinso.net, in the Apple online store and as an Android app, so that interested companies can visit or download it for free.
The first edition of the PROINSO SOLAR CATALOGUE, launched in September 2012, had 14,360 visitors. Moreover, the online PDF file recorded a total 4,055 downloads and the app for mobile phones and tablets had 2,939 downloads from Apple Store and Google Play. In addition, 10,000 copies were printed and distributed among big installers.
Given the first edition's success, at PROINSO they decided to update the fact sheets of more than 400 products from 30 brands, published on the 438-page catalogue. Also, the PROINSO SOLAR CATALOGUE (2013-2014) includes information on power efficiency products like recharging stations or efficiency auditing devices, plus water purification systems, PV-diesel hybrid systems, and so forth.
For products with technical specifications that vary with geographical regions, the catalogue offers specific information for the Americas, Europe, Asia or Australia.
In the words of PROINSO Marketing Manager Teresa Marticorena, 'We've updated the catalogue's contents considering the markets that are relevant to our business, mainly USA, Asia, Latin America, South Africa and Australia.'
Contents and brands
The PROINSO SOLAR CATALOGUE has sections on modules, inverters (grid-connected or stand-alone PV systems), batteries, chargers, charge regulators, water pumps and purification systems, accessories (cables, connectors and DC boxes), solar kits, trackers, fixed structures, power efficiency products, monitoring systems and software, and many other products, solutions and services.
The leading brands in the catalogue include Canadian Solar, Trina Solar, Yingli Solar, SMA, Ingeteam, Enecsys, Victron Energy, Trojan, EnerSys, Morningstar, Steca, Grundfos, Renusol, Solar-Log, Kipp & Zonen, Solmetric, and many others. This year's edition adds ReneSola, Q-Cells, Optima Renovables, Circutor, PCE and Testo, among others.
The PROINSO SOLAR CATALOGUE goes beyond information on products, solutions and services, incorporating a section titled 'Solar Know How', with parameters and charts about modules and inverters, a trade show calendar, a list of big associations, a solar PV glossary, etc.
The PROINSO SOLAR CATALOGUE is in line with the company's philosophy to offer value-added services to collaborators and installers. GOLD Qualified Installers in PROINSO's International Network will be able to personalise the catalogue, adding their logo to show to their customers.
The PROINSO SOLAR CATALOGUE adds to related initiatives like the PROINSO STORE, the PROINSO SOLAR TRAINING SCHOOL (which now provides e-learning services to installers), the PROINSO PLUS PROGRAMME and other tools that have made PROINSO a pioneer in the field of PV solar power.
INTERSOLAR NORTH AMERICA
The new edition of the PROINSO SOLAR CATALOGUE (2013-2014) will be introduced at Intersolar North America (Booth 7115), being held from 9 to 11 July in San Francisco. It quis one of the most important trade shows in USA, drawing an expected 20,000 visitors.
ABOUT PROINSO http://www.proinso.net
An OPDE Group subsidiary, PROINSO specialises in the supply of PV modules, solar kits, inverters, structures and solar trackers, solar solutions for urban applications in public areas, vehicle recharging stations, self-consumption installations, stand-alone PV power systems and monitoring systems.
With international markets accounting for 88% sales, PROINSO has offices in Spain, Germany, Greece, Italy, USA, Great Britain, Canada, China, Brazil, Australia, Japan, South Africa and India. Recently, the company opened a new branch in Japan.//
Featured Product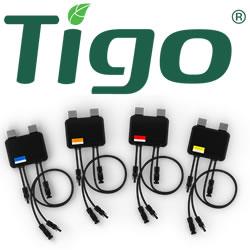 Tigo will announce the new product launch of the patented UHD-Core TS4-A (Advanced Retrofit/Add-on) Platform at SPI 2019. The new TS4-A-M (Monitoring) & TS4-A-S (Safety) units have improved lightweight hardware and lower labor costs to address a range of functions and budgets. The TS4-A-M allows module-level monitoring via Tigo's SMART Website & App. The TS4-A-S is UL-certified as a rapid shutdown solution for residential and C&I PV system. Both units join the Tigo's multivendor solution that works with almost any inverter and smart module in the global PV market. Contact sales@tigoenergy.com for pricing, shipping, and availability in Q4'19.